Quick recipe finder Rustic Bakewell tart
This rough Bakewell tart is enclosed in pastry, giving a really rustic feel (and no worries about even edges).

By Allegra McEvedy From Economy Gastronomy
Ingredients
Method
Preheat the oven to 200C/400F/Gas 6.

In a mixing bowl, blend together the ground almonds, butter and sugar using a wooden spoon.

Add the whole beaten egg (but not the additional yolk) and the vanilla extract and beat until well combined. Cover and chill in the fridge for 2-3 minutes, or until the mixture has firmed up.

Roll out the pastry onto a lightly floured work surface until it forms a square approximately 30cm/12in in diameter.

Lightly dust a shallow, lipped roasting tray with flour. Gently gather the pastry up so that it is rolled loosely around your rolling pin, then lay it over the prepared roasting tray so that the edges of the pastry fall over the lipped edge with the middle of the pastry inside the tray.

Spoon the jam into the centre of the pastry and spread it in an even layer over the pastry using the back of a spoon (leave 5cm/2in free at the edges of the pastry).

Spoon the chilled almond mixture on top of the jam and spread out in an even layer.

Draw the corners and edges of the pastry up and fold them over to form a rough pastry case around the filling mixture (the filling will still be visible in the middle).

Mix together the remaining egg yolk and the milk, then brush the pastry lightly all over with the mixture. Sprinkle the tart filling with the caster sugar and flaked or whole almonds.

Transfer the Bakewell tart, in the roasting tray, to the oven and bake for 25-30 minutes, or until the tart filling is firm and pale golden-brown and the pastry is crisp and golden-brown.

When the Bakewell tart is cooked, reduce the oven temperature to 160C/310F/Gas 3 and continue to cook the Bakewell tart for a further 10 minutes.

Remove the tart from the oven and set aside to cool slightly before serving.
Related Recipes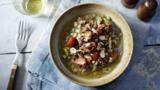 Almond lentil stew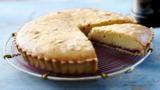 Bakewell tart
This recipe is from…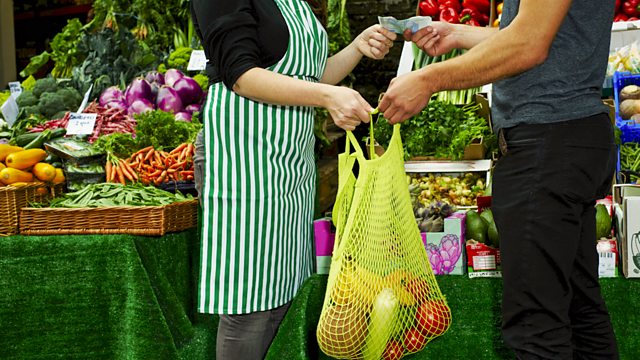 Economy Gastronomy
Episode 2
BBC Two
Recipes from this episode