Quick recipe finder Mustard and thyme crusted rib-eye of beef
Rib-eye is one of the most flavoursome cuts of beef; this dish works perfectly with the extra-hot horseradish sauce.

By Ainsley Harriott From Great British Food Revival
Ingredients
For the beef
For the horseradish cream
Method
Place the rib-eye of beef into a large non-metallic dish.

In a jug, mix together the red wine, vinegar, sugar, allspice, bay leaf and half of the thyme until well combined.

Pour the mixture over the beef, turning to coat the joint evenly in the liquid. Cover the dish loosely with cling film and set aside to marinate in the fridge for at least four hours, turning occasionally. (The beef can be marinated for up to two days.)

When the beef is ready to cook, preheat the oven to 190C/375F/Gas 5. Lift the beef from the marinade, allowing any excess liquid to drip off, and place on a plate, loosely covered, until the meat has returned to room temperature.

Sprinkle the crushed peppercorns and the remaining thyme onto a plate. Spread the mustard evenly all over the surface of the beef, then roll the beef in the peppercorn and thyme mixture to coat.

Place the crusted beef into a roasting tin and roast in the oven for 1 hour 20 minutes (for medium-rare) or 1 hour 50 minutes (for well-done).

Meanwhile, for the horseradish cream, mix the crème frâiche, creamed horseradish, mustard and chives together in a bowl until well combined. Season, to taste, with salt and freshly ground black pepper, then spoon into a serving dish and chill until needed.

When the beef is cooked to your liking, transfer to a warmed platter and cover with aluminium foil, then set aside to rest in a warm place for 25-30 minutes.

To serve, carve the rib-eye of beef into slices and arrange on warmed plates. Spoon the roasted root vegetables alongside. Serve with the horseradish cream.
Related Recipes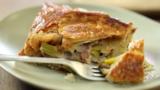 Chicken and leek pie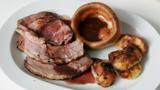 How to cook roast beef with Yorkshire puddings
This recipe is from…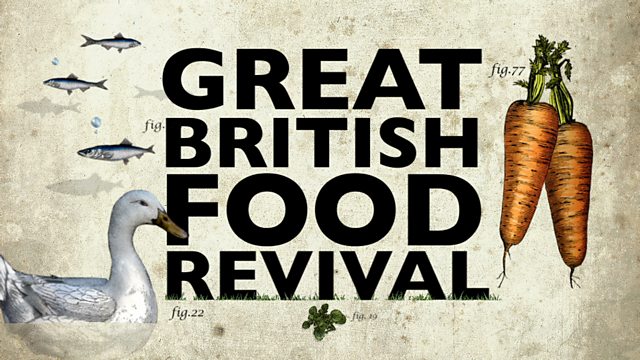 Great British Food Revival
4. Mustard and Venison
BBC Two
Recipes from this episode