Quick recipe finder Microwave mug carrot cake
Lesley Waters show you how to bake a simple carrot cake in the office.
By Lesley Waters
Ingredients
Method
To make the sponge place the flour, butter, sugar and eggs in a food processor and blend to a thick batter.

Carefully remove the blade from the food processor then mix in the grated carrot.

Grease a pudding bowl or heatproof mugwith butter and spoon in the sponge mix.

Cover with cling film and microvave on full power for eight minutes, or until cooked through. Serve warm.
Related Recipes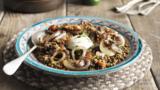 Sweet onions with lentil stew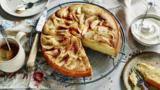 German apple cake