Quick recipe finder Meat feast calzone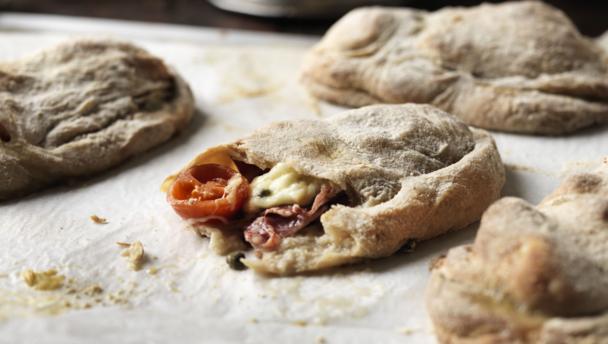 Make your own dough for this folded pizza recipe. Simon Rimmer serves it with mozzarella, capers and meats such as salami, prosciutto or speck.

By Simon Rimmer From Something for the Weekend
Ingredients
For the dough
225g/8oz plain strong flour, plus extra for dusting
90ml/3fl oz milk, warmed to body temperature
50ml/2fl oz water, warmed to body temperature
1 tsp dried yeast
25ml/1fl oz olive oil
pinch salt
For the filling
Method
For the dough, sift the flour into a bowl.

Mix the milk, water and yeast together in a separate bowl.

Add the yeast mixture to the flour and mix together to form a dough. Knead the dough for five minutes on a floured and even service.

Add the olive oil and knead again to combine. Cover the bowl with cling film and leave somewhere warm for two hours.

Preheat the oven to 230C/450F/Gas 8. Place a baking tray into the oven to preheat.

Add the salt to the dough and knead again, then divide the dough into four equal portions and roll into balls.

Place each ball onto a floured work surface and roll out into 20cm/8in circles.

For the filling, place all of the filling ingredients into a bowl and mix together well.

Place one quarter of the filling mixture onto one half of each dough circle, leaving a 2cm/1in gap around the edge.

Brush the clean edges with water then fold the other sides over to cover the filling and pinch the edges to seal the four parcels.

Place the calzones onto the preheated baking sheet and transfer to the oven to bake for eight minutes, or until the dough is cooked through and the filling hot.
How-to videos