Quick recipe finder Mary Berry's classic fruit cake
This is the perfect cake for Christmas, birthdays and all special occasions – it's a winner.

By Mary Berry
Ingredients
To finish
Method
Put the currants, sultanas, raisins, rinsed, dried and quartered cherries, snipped apricots and chopped mixed peel in a large bowl. Stir in the brandy, cover the bowl and leave in a cool place overnight.

Lightly grease a 23cm/9 in deep round cake tin. Cut a strip of non-stick baking parchment to fit twice around the sides of the tin, fold the bottom edge of the strip up by about 2.5cm/1 in creasing it firmly, then open out the fold and cut slanting lines into this narrow strip at intervals. Put a circle of non-stick baking parchment into the base of the tin, lightly grease the outer edge and then fit the prepared strip of parchment with the snipped edge in the base of the tin to line the sides of the tin. Place a second circle of non-stick baking parchment in to cover the cut part of the paper.

Preheat the oven to 140C/275F/Gas 1.

Put the flour, grated nutmeg, mixed spice, butter, sugar, eggs, chopped almonds, black treacle and the citrus zest into a large bowl and beat well to mix thoroughly. Fold in the soaked fruits.

Spoon the mixture into the prepared cake tin and spread out evenly with the back of a spoon. Decorate the top with the whole blanched almonds and glacé cherries, pushing them lightly into the top of the cake mixture. Cover the top of the cake loosely with a double layer of greaseproof paper. Bake in the pre-heated oven for about 4¼-4 ¾ hours, or until the cake feels firm to the touch and a skewer inserted into the centre comes out clean. Allow the cake to cool in the tin.

When cool, pierce the cake at intervals with a fine skewer and 'feed' with a little splash of brandy. Once the cake is completely cold, leave the lining paper on the cake, wrap in a double layer of greaseproof paper and again in foil. Store in a cool, dry place for up to three months, feeding at intervals with more brandy.
Recipe Tips
You need to start preparing this cake the night before you want to bake it as the dried fruits need to be soaked in brandy so that they become plump. You can vary the fruit if you like, but make the total weight the same as in the recipe.
Related Recipes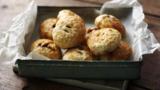 Eccles cakes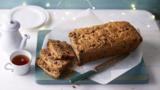 Granny's cake