Quick recipe finder Chargrilled steak with sweet potato, green bean ragoût and red wine sauce

By Richard Phillips From Ready Steady Cook
Ingredients
For the sweet potato
For the red wine sauce
For the green bean ragout
For the chargrilled steak
Method
For the sweet potato, melt the butter in a hot frying pan and add the sweet potato, stock and fresh thyme. Slowly cook the potatoes until just tender, then remove the potatoes from the cooking liquid and set aside in a bowl.

For the red wine sauce, heat the oil in another frying pan. Add the shallot, mushrooms and wine and simmer until the liquid has reduced by half. Reserve half of this sauce in a small bowl and set aside.

For the green bean ragout, add the beef stock and double cream to the remaining red wine sauce in the frying pan and add the green beans and cheese. Stir together.

For the steak, rub the steak with the olive oil. Heat a frying pan until hot, then fry the steak for 1-2 minutes on each side, or until the steak is cooked to your liking. Remove from the heat and leave to rest.

Place half of the sweet potato onto a serving plate and spoon some of the green bean ragout on top. Top with the remaining potato and finish with ragout. Slice the steak into strips and serve next to the potatoes. Spoon the reserved red wine sauce around the plate.
Related Recipes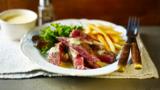 Rump steak, chips and béarnaise sauce