Quick recipe finder Catalan-style squid and octopus stew
Squid and octopus cooked with rich Spanish flavours of smoked paprika and saffron. Served simply with crusty bread.

By James Martin From Saturday Kitchen
Ingredients
Method
Heat a frying pan until hot. Add the olive oil, onion and red pepper and fry gently for 3-4 minutes, until softened.

Add the garlic, chorizo, paprika and saffron. Fry for 2-3 minutes, or until the oil begins to be released from the chorizo.

Add the potatoes and stir to combine.

Remove the tentacles from the squid and set aside. Cut the body into bite-sized squares. Cut the octopus into 4cm/1½in pieces.

Add the squid and octopus to the pan and stir well.

Add the tomatoes and fish stock and bring to the boil. Reduce the heat to a gentle simmer and cook for 30 minutes, or until the squid and octopus are tender. Season, to taste, with salt and freshly ground black pepper.

Sprinkle over the parsley and serve with crusty bread.
Related Recipes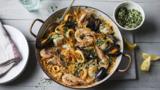 Fideuà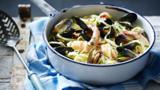 Linguine with prawns and mussels