Quick recipe finder Catalan potato and bean stew

By Simon Rimmer From Something for the Weekend
Ingredients
For the garlic dip
For the potato and bean stew
Method
Preheat the oven to 180C/350F/gas 4.

For the garlic dip, place the garlic into a baking dish and drizzle over the olive oil. Toss well to coat, then roast in the oven for 25 minutes, or until the garlic is soft and golden.

Transfer the garlic and oil into a food processor, add the salt and sherry vinegar and blend to a smooth purée. Set aside.

For the potato and bean stew, heat the olive oil in a pan and gently fry the breadcrumbs for 3-4 minutes, or until softened. Add the onions and garlic and cook for 8-10 minutes, or until the onions are soft and translucent.

Add the potatoes and stock to the pan, then reduce the heat and allow to simmer for 10-12 minutes.

Add the tomatoes and beans and simmer for another 4-5 minutes, then stir in the herbs, butter and lemon juice.

To serve, spoon the stew into serving bowls. Serve the garlic dip alongside, or spoon over the stew.
Related Recipes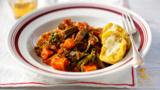 Sweet potato gumbo with cornbread muffins