Quick recipe finder Caramel and cinnamon cake
Indulge your family and friends with this impressive caramel and cinnamon flavoured sweet treat.
Ingredients
For the cake
For the caramel meringue buttercream
For the sugar syrup
Method
Preheat oven to 175C/350F/Gas 4. Line three 20cm/8in sandwich tins, but don't grease them.

Whisk the eggs lightly in a bowl until foaming, then slowly whisk in the sugar using an electric whisk. Set the bowl over a pan of simmering water and continue to whisk until the sugar has melted. Remove the bowl from the heat and continue to whisk until the mixture reaches the ribbon stage.

Mix the cinnamon, nutmeg, flour and cornflour together in a bowl. Sift one-third of the flour mixture into the egg mixture and gently fold together. Repeat with the remaining flour mixture until well combined.

Beat a small amount of the cake batter into the butter, then fold this mixture into the rest of the cake batter.

Divide the cake batter among the cake tins and bake in the oven for 15-20 minutes, or until a toothpick inserted into the centre of the cakes comes out clean. Remove from the oven and set aside to cool. Once cooled, run a round-bladed knife around the inside edge of the tins and turn out onto a wire rack to cool completely.

Meanwhile, for the caramel meringue buttercream, whisk the egg whites in a free-standing mixter until frothy. Add the cream of tartar then whisk until stiff peaks form when the whisk is removed.

Heat the water and sugar in a saucepan until the temperature reaches 115C/238F (use a sugar thermometer to check this).

Pour the hot syrup down the side of the bowl of egg whites and continue whisking until the mixture is glossy and cooled. Then slowly beat in the butter a little at a time, ensuring all the butter is incorporated before adding more. The icing will be thick and smooth.

For the sugar syrup, heat the sugar and water over a medium heat until the sugar has dissolved and the volume of the liquid has reduced slightly. Add the vanilla extract and set aside to cool.

To decorate the cake, brush the cakes with sugar syrup using a pastry brush, then use the caramel icing to fill and ice the top and sides.
Related Recipes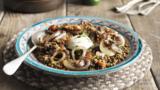 Sweet onions with lentil stew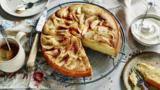 German apple cake
This recipe is from…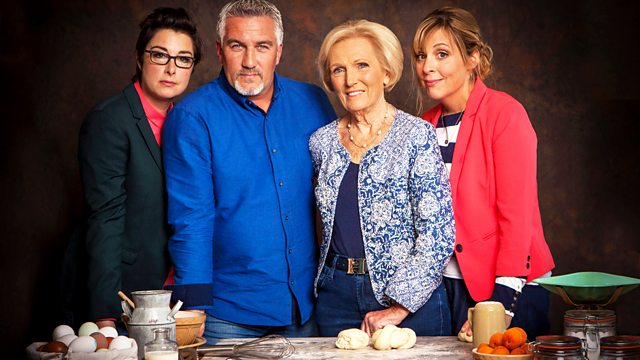 The Great British Bake Off
1. Cakes
BBC One
Recipes from this episode