Quick recipe finder Camembert and quince flatbreads
Simple flatbreads are given a indulgent twist by the addition of Camembert and quince. Best eaten straight from the pan.

By Paul Hollywood From The Great British Bake Off
Ingredients
500g/1lb 2oz strong white bread flour
10g/½oz salt
1 x 7g sachet fast-action dried yeast
320ml/11fl oz lukewarm water
200g/7oz Camembert
150g/5½oz quince paste (membrillo)
Method
Place the flour, salt and yeast in a large free-standing electric mixer with a dough hook attachment. Start the machine running on low speed while you gradually pour in three-quarters of the water. Leave to mix for a minute, then add the rest of the water. Turn the mixer speed up to medium-high and leave to mix for about seven minutes to make a shiny, smooth dough.

Alternatively, mix together the dry ingredients in a large mixing bowl, then gradually work in three-quarters of the water with your hand. Give the dough a good mix for a couple of minutes, then knead on a lightly floured worktop for about 10 minutes until the dough is shiny and smooth.

Tear or cut the cheese into small pieces and break up the quince jelly. Add to the dough and gently incorporate by hand, mixing the cheese and jelly evenly into the dough.

Place the dough in an oiled bowl and turn to coat with oil, then cover with cling film and leave to rise at room temperature for an hour or until doubled in size.

Tip out the risen dough onto a lightly floured worktop and knock back. Divide the dough into 16 portions. Roll each portion of dough into a ball, then roll out each ball with a floured rolling pin to a rough disc about 12.5cm/5in wide.

Heat a heavy frying pan over a high heat. Very lightly oil the pan by wiping it with an oiled piece of kitchen paper. Cook the discs of dough, one at a time, for about two minutes on each side, until they are golden brown all over.

Keep the flatbreads warm by wrapping them in a tea towel while you cook the remaining dough. These are best eaten warm.
Related Recipes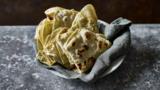 Roti
This recipe is from…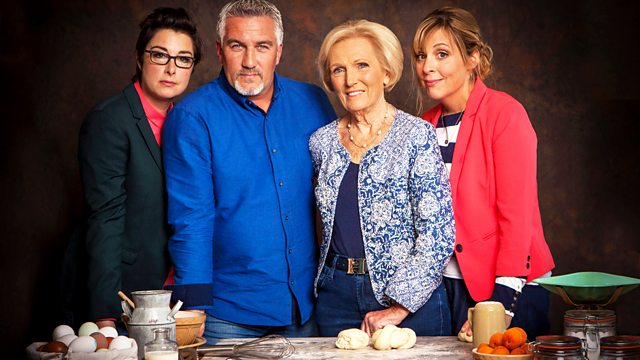 The Great British Bake Off
14. Masterclass
BBC One
Recipes from this episode