Quick recipe finder Butternut squash and gruyere pasties

By Merrilees Parker From Saturday Kitchen
Ingredients
Method
Preheat the oven to 200C/400F/Gas 6.

Heat the olive oil in a frying pan. Fry the ham until it begins to turn crispy. Add the sage and toss quickly. Tip on to a plate lined with kitchen paper.

Make the filling by mixing the butternut squash, onion, cheese, crispy ham and sage. Season generously with salt and freshly ground white pepper and then mix thoroughly with the cream.

Place one sheet of pastry onto a floured board. Take a plate large enough to cut out 2 circles from the pasty. You can also just divide into two to make a triangle pasty.

Whisk the egg up and add a teaspoon of water to make egg wash.

Place a quarter of the mixture onto one half of the pastry. Brush the inside edges with some egg wash, then carefully close to from a purse shape. Using a fork gently crimp the edges. Brush the top with more of the egg wash and place on a baking tray. Repeat the process to make the remaining three.

Place in the oven for ten minutes. Then reduce the temperature to 180C/350F/Gas 4 and cook for a further 25 to 30 minutes when the pastry will be golden brown and the pasties cooked through.

Serve hot or at room temperature.
Related Recipes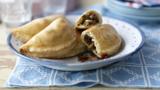 Spiced beef empanadas