Quick recipe finder Buttered hake with cockles, mussels, samphire and a creamy saffron sauce
Hake is a member of the cod family and has a similar flakey texture. James cooks his en papillote and serves it with a luxurious sauce.

By James Martin From Saturday Kitchen
Ingredients
For the hake
For the seafood and saffron sauce
To serve
Method
Preheat the oven to 200C/180C Fan/400F.

For the hake, butter two large pieces of greaseproof paper and put a hake fillet in the centre of each. Place on a baking tray and bake for 8-10 minutes, or until the fish is cooked.

For the seafood and saffron sauce, discard any mussels and cockles that don't close when sharply tapped. Bring the white wine to the boil in a large saucepan. Add the cockles and mussels and cover with a lid. Cook for 2-3 minutes over a high heat.

When the shells have opened, drain the shellfish, reserving the cooking liquor. Discard any clams or mussels that have not opened. Pick the meat from the shells.

Heat a frying pan and add half the butter. Fry the shallot until soft, add the reserved shellfish liquor then cook until the volume of the liquid is reduced by half. Add the cream and saffron and reduce again. Stir in the remaining butter in small pieces until the sauce thickens. Stir the langoustine tails, tomatoes and chopped herbs into the sauce to heat through.

Heat a large saucepan of boiling water and blanch the samphire for 1-2 minutes, then drain. Melt the butter in a separate frying pan and fry the samphire for 1-2 minutes.

To serve, divide the samphire between two serving bowls and top with the cooked hake. Pour the sauce over the top and garnish with the micro herbs and caviar.
Related Recipes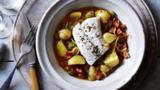 Hake with chorizo and potatoes (Merluza à la Gallega)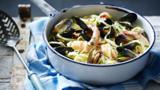 Linguine with prawns and mussels
This recipe is from…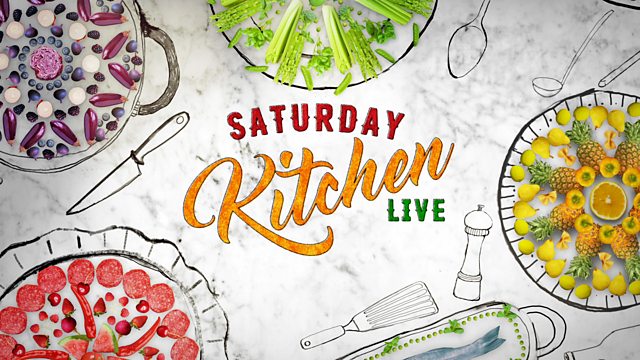 Saturday Kitchen
Saturday Kitchen
BBC One
Recipes from this episode