Quick recipe finder Braised hogget pie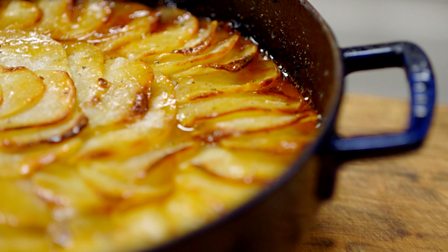 This hearty lamb hotpot topped with sliced potatoes is a delicious dish to share with family or friends.

By James Martin From James Martin: Home Comforts
Ingredients
Method
Preheat the oven to 200C/180C Fan/Gas 6.

Season the hogget all over with plenty of salt and pepper.

Heat a large, heavy-based casserole over a medium heat. When the pan is hot, add the hogget and fry for a couple of minutes on all sides, until browned all over. Remove from the pan and set aside.

Add the shallots and tomato purée to the casserole and fry in the hogget juices for 2-3 minutes, until softened, stirring well.

Add the garlic, carrots and celery and continue to fry for 3-4 minutes, until softened, stirring well.

Add the thyme leaves and red wine and bring the mixture to the boil. Return the hogget to the pan, pour over the beef stock, then return the mixture to the boil. Transfer the casserole to the oven and cook for 2 hours.

After 2 hours, lift the hogget out of the casserole using a couple of carving forks and set aside on a board to cool slightly. Taste the sauce and add more salt and pepper if needed.

Tear the hogget into strips and return them to the casserole, mixing them into the sauce.

Layer the sliced potatoes over the top of the casserole and dot with the butter. Season with salt and pepper.

Return the casserole to the oven for a further 30 minutes, or until the potatoes are tender and golden-brown and the casserole is bubbling.
Recipe Tips
Hogget is the name given to a young sheep over one year old. Its meat is slightly richer than lamb, but not as gamey as mutton. If you can't find hogget, try this dish with lamb shoulder instead.
Related Recipes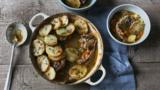 Nigel Slater's Lancashire hotpot
Pot-roast hogget with barley
This recipe is from…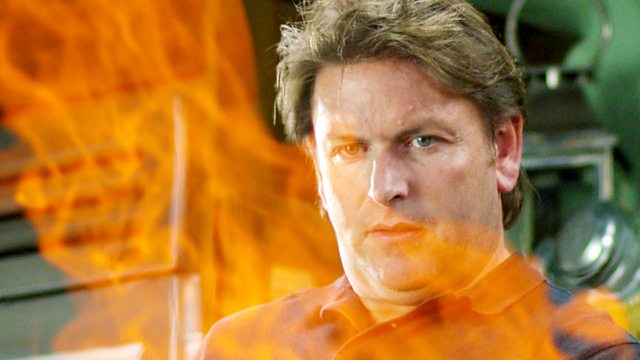 James Martin: Home Comforts
5. Food to Share
BBC Two
Recipes from this episode