Quick recipe finder Bourbon-glazed sticky ribs with coleslaw and baked potatoes

By James Martin From Saturday Kitchen Best Bites
Ingredients
For the ribs
For the bourbon sauce
For the coleslaw
For the baked potatoes
To serve
Method
For the ribs, place the beef fore ribs, peppercorns, bay leaves, flatleaf parsley, onion and carrot into a large pan. Cover with water and bring to the boil.

Once the mixture is boiling, reduce the heat until the mixture is simmering.

Simmer for 1½ hours, stirring occasionally to prevent sticking.

Preheat the oven to 200C/400F/Gas 6.

Meanwhile, for the bourbon sauce, place the tomato ketchup, chilli ketchup, soy sauce, honey, teriyaki sauce and bourbon into a separate pan, stir well and bring the mixture to a simmer. Simmer for 1-2 minutes, then remove from the heat.

When the ribs have simmered for 1½ hours, dip them into the bourbon sauce, then place them onto a roasting tray, reserving the remaining sauce. Roast in the oven for 10-12 minutes, then spoon over more of the bourbon sauce. Continue to roast for a further 10-12 minutes, then remove from the oven and set aside on a warm plate.

For the coleslaw, blend the egg yolks, white wine vinegar, Dijon mustard and salt in a food processor until smooth and well combined.

With the food processor motor still running, gradually pour in the rapeseed oil and the olive oil in a thin stream until the mixture thickens to the consistency of thick mayonnaise. (You may not need all of both oils.)

Transfer the mayonnaise mixture to a clean bowl. Gradually add the cold water and lemon juice in a thin stream, whisking continuously. Season, to taste, with salt and freshly ground black pepper.

Place the carrots, cabbage and onion into a large mixing bowl and add enough mayonnaise to coat the vegetables. Stir until well combined and set aside.

For the baked potatoes, rub the baking potatoes with olive oil and sprinkle over the salt.

Place the potatoes onto the top shelf of the oven and bake for one hour, or until tender (allow more time for larger potatoes).

To serve, divide the sticky ribs among four serving plates and spoon a portion of coleslaw alongside. Split the potatoes in half and place one onto each plate. Top with a spoonful of soured cream and garnish with the chopped curly parsley.
Related Recipes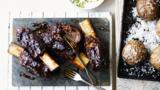 Beef ribs with barbecue sauce, baked potato and chive soured cream
This recipe is from…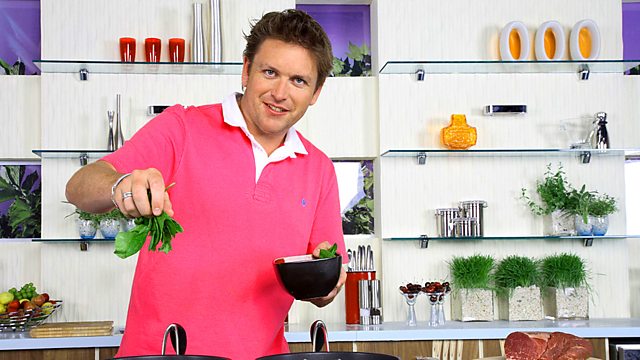 Saturday Kitchen Best Bites
205. 25/10/2015
BBC One
Recipes from this episode