Quick recipe finder Beef and pepper kebabs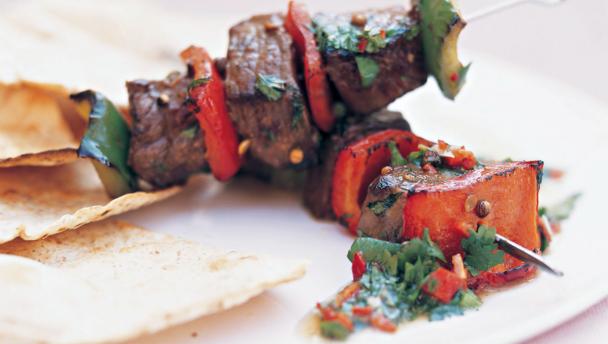 These skewers are very easy to make and packed with flavour.
This meal is low calorie and provides 421 kcal, 27.8g protein, 32.3g carbohydrate (of which 5.5g sugars), 20.6g fat (of which 2.8g saturates), 1.6g fibre and 0.4g salt per portion.
Ingredients
Method
Soak 8 wooden skewers in warm water.

Cut the beef and peppers into 2.5cm/1in cubes.

Mix together the coriander seeds, 2 tablespoons of oil and half the chopped coriander in a bowl and season to taste. Add the beef and peppers and toss to coat. Cover and refrigerate for up to 1 hour.

Mix together the remaining coriander and oil with the chilli, garlic and lime juice to make a dressing, season to taste and set aside.

Preheat the grill to a hot setting. Thread the beef and peppers on to the skewers. Place the beef skewers on a foil lined tray and grill for 15 minutes, turning often and basting with the juices. Warm the chapatis under the grill.

Put two skewers on each chapati, drizzle over the coriander dressing and serve.
Related Recipes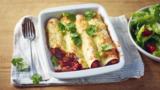 Quick beany enchiladas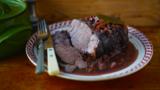 Braised beef in red wine