Quick recipe finder Bangers and mash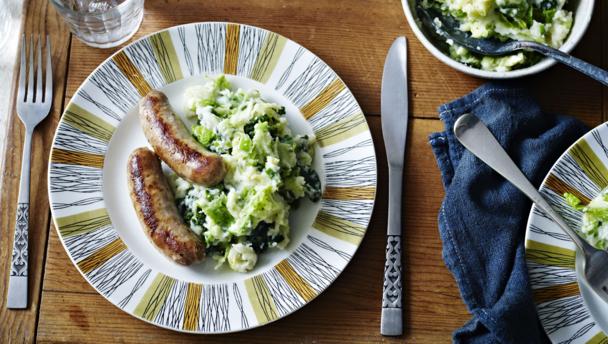 Bring back the flavours of your childhood with this simple recipe for bangers and mash. Add spring onion and cabbage to the mash to help get you on your way to 5 a day.

By Donal Skehan
Ingredients
Method
Peel and dice the potatoes then tip into a large pan of salted cold water. Bring to the boil over a high heat. Reduce the heat and simmer gently for 10–15 minutes or until they are tender when pierced with a fork.

Meanwhile, cook the sausages. Pierce the sausages with a fork then heat the oil in a large frying pan over a medium heat and fry the sausages gently for 10-12 minutes or until golden-brown and cooked through.

Separate the cabbage leaves, cut out the stalks and discard, then finely slice. Bring a separate pan of water to the boil, add the cabbage and cook for 3-4 minutes until tender. Drain thoroughly. Finely slice the spring onions.

Drain the potatoes, return them to the pan and add the milk and butter. Using a potato masher, mash until smooth and creamy. You may want to add a little bit more, or less, milk and butter, according to taste.

Stir the spring onion in to the mash and season with salt and pepper. Serve the cabbage mash topped with the cooked sausages.
Related Recipes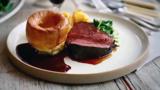 Treacle-cured beef with Yorkshire puddings and roast potatoes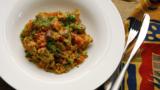 Baked Cuban chicken and rice