Quick recipe finder Banana leaf-baked sea bass
This authentic Indonesian fish dish is packed with exotic spices which aren't available in most shops, but can be found online.
By Bobby Ananta From Nigel Slater: Eating Together
Ingredients
For the spice paste
¼ tsp ground white pepper
¼ tsp ground black pepper
¼ nutmeg, finely grated
¼ tsp ground tailed pepper (also known as cubeb berries)
¼ tsp cumin seeds
¼ tsp aniseed
1 dried long pepper
½ tsp coriander seeds
3 garlic cloves, finely chopped
7 shallots, finely chopped
3 red chillies, de-seeded, finely chopped
2cm/¾in piece fresh root ginger, peeled, finely chopped
1cm/½in piece fresh galangal, peeled, finely chopped
2cm/¾in piece fresh turmeric, fried until golden-brown
½ tsp ready-made tamarind paste
4 candle nuts
1 lemongrass stalk, tough outer leaves removed, soft inner stem chopped
1 tsp coconut sugar
For the baked sea bass
1 large whole sea bass (approximately 2kg/4lb 8oz), de-scaled, gutted, rinsed inside and out under cold water
2 limes, juice only
salt, to taste
small bunch lemon-basil leaves
1 x 70x40cm/28x16in banana leaf, to wrap the fish
Method
Preheat the oven to 200C/180C fan/Gas 6.

For the spice paste, dry-fry the white pepper, black pepper, nutmeg, tailed pepper, cumin seeds, aniseed, long pepper and coriander seeds in a frying pan over a medium heat for 4-5 minutes, or until toasted and fragrant.

Grind the toasted spices to a fine powder in a large pestle and mortar or spice grinder. Add the remaining spice paste ingredients and continue to pound the ingredients to a rough paste. Set aside.

For the baked sea bass, rub the sea bass all over with the lime juice and set aside for 5 minutes.

Spread the spice paste all over the fish until coated. Season with salt, then stuff the cavity with the lemon-basil leaves and bay leaves.

Put the fish in the centre of the banana leaf (use several leaves if you cannot find one that's big enough). Fold the edges of the banana leaf over the fish to create a tight parcel. Secure with wooden skewers or cocktail sticks.

Bake the sea bass in the oven for 40-50 minutes, or until the fish is cooked through. Unwrap the fish and remove the meat from the bones, keeping the skin as intact as possible. Serve with turmeric-cooked vegetables.
Recipe Tips
Serve with turmeric-cooked vegetables.
Related Recipes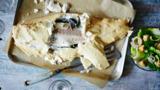 Salt-crusted sea bass with runner bean salad
This recipe is from…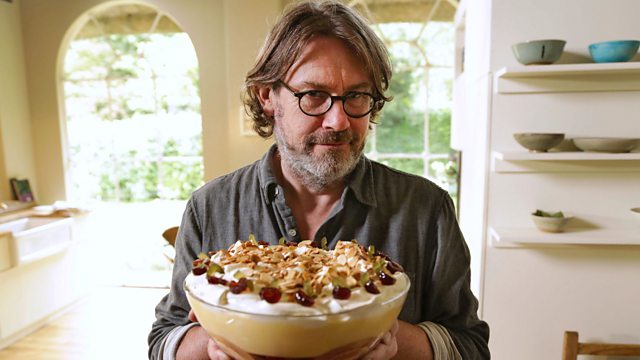 Nigel Slater: Eating Together
5. Sharing Plates
BBC One
Recipes from this episode