Quick recipe finder Baked rice pudding with raspberry sauce

By James Martin From Saturday Kitchen Best Bites
Ingredients
For the baked rice pudding
For the raspberry sauce
250g/9oz raspberries
2 tbsp icing sugar
50ml/2fl oz water
Method
Preheat the oven to 180C/350F/Gas 4.

For the baked rice pudding, lightly grease a 1 litre/1¾ pint pudding basin or ovenproof dish.

Wash the rice under cold water and drain.

Place the milk and cream into a saucepan with the vanilla pod and bring slowly to the boil.

Add the rice and sugar and stir well.

Pour the mixture into the pudding basin or dish and grate over a little nutmeg.

Cut the butter into small pieces and place over the top of the rice mixture.

Transfer the dish to the oven and bake for about 15 minutes, then lower the temperature to 150C/300F/Gas 2.

Bake for a further 1¼ hours, or until golden-brown on top and creamy underneath.

Preheat the grill to medium. Dust the surface of the rice pudding with the icing sugar and place under the grill to caramelise. Alternatively, caramelise with a mini-blowtorch.

For the raspberry sauce, place the raspberries, icing sugar and water into a food processor and blend until smooth.

Pass the mixture through a sieve set over a bowl to remove the raspberry pips.

To serve, place a spoonful of the raspberry sauce onto each plate and top with a large spoonful of rice pudding.
How-to videos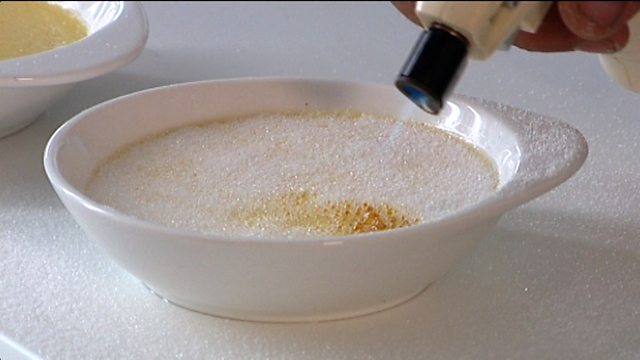 Caramelising sugar with a blow torch
Related Recipes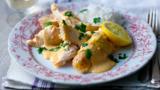 Coronation chicken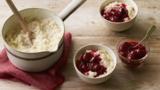 Almond rice pudding and cherry compôte
This recipe is from…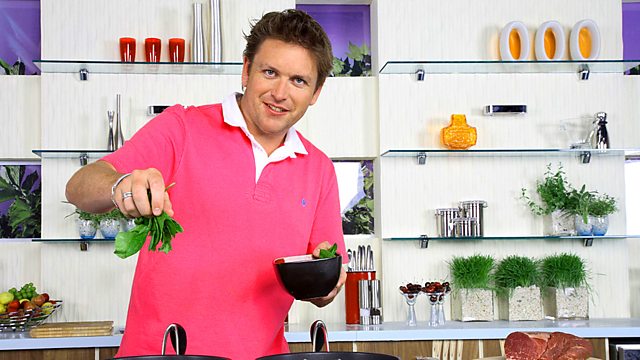 Saturday Kitchen Best Bites
Episode 63
BBC One