Quick recipe finder Baked aubergine rolls filled with mozzarella

By Gennaro Contaldo From Saturday Kitchen
Ingredients
For the tomato sauce
To serve
Method
To make the tomato sauce, heat the olive oil in a saucepan, add the garlic, onion and celery and sweat until softened. Stir in the tomatoes, season with salt and pepper, then cover the pan and simmer gently for 25 minutes.

Preheat the oven to 200C/400F/Gas 6.

Dust the aubergine slices in the flour, then dip them in the beaten egg.

In a large frying pan, heat some olive oil to a depth of about 1 cm/½ inch, add the aubergine slices and fry on both sides until golden. Remove and drain on kitchen paper.

Line the aubergine slices up on a large chopping board, season with salt and pepper, then evenly sprinkle 25g/1oz of the parmesan over the top.

Place three basil leaves on each aubergine slice and top with a couple slices of mozzarella, reserving half the cheese. The carefully roll each slice up, making sure they are seam-side downwards so they don't open up.

Line a large ovenproof dish (or individual ones) with some of the tomato sauce and place the aubergine rolls on top.

Spoon over the remaining tomato sauce and top with the remaining mozzarella slices and parmesan.

Place in the oven and bake for 15 minutes, until the top is very lightly coloured and beginning to bubble. Serve with a green salad.
Related Recipes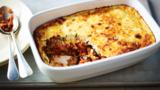 Red lentil and aubergine moussaka