Quick recipe finder Apricot upside-down tart

By Valentine Warner From What to Eat Now
Ingredients
For the pastry
For the butterscotch filling
Method
Preheat the oven to 200C/400F/Gas 6.

For the pastry, blend the flour and salt in a food processor until combined. Add the butter cubes and sugar and blend again until the mixture resembles fine breadcrumbs.

With the motor running, gradually add just enough beaten egg and water mixture until the mixture comes together as a dough. (NB: You may not need to use all of the egg and water mixture.)

Turn out the pastry onto a work surface covered with a large sheet of baking paper. Cover the pastry with a second sheet of baking paper, then roll it out until the pastry forms a circle 25cm/10in in diameter. Trim off any excess to form a neat circle. Set aside.

For the butterscotch, heat the sugar and water in a small, ovenproof frying pan over a low heat for 2-3 minutes, or until the sugar has dissolved and the mixture resembles syrup.

Increase the heat until the syrup mixture is simmering. Simmer for 4-5 minutes, or until the syrup mixture caramelises. Do not stir the mixture at this stage – swirl the pan to move the contents if you need to. (CAUTION: Hot sugar is dangerous. Do not leave unattended.)

When the syrup mixture has caramelised, remove the pan from the heat and stir in 40g/1½oz of the butter, until the butter has melted and the mixture is smooth and thick. Set aside for five minutes.

Place the apricots, cut-sides down, into the warm butterscotch in the pan.

Gently cover the pan with the pastry circle, tucking the edges of the pastry loosely inside the pan using a round-bladed knife. Prick all over using a fork and dot with the remaining butter. Sprinkle over the teaspoon of caster sugar.

Transfer the pan to the oven and bake for 25-30 minutes, or until the pastry is golden-brown and cooked through and the apricots and butterscotch are bubbling. Remove the pan from the oven and set aside to cool for five minutes.

When the tart has cooled slightly, loosen the edges of the pastry using a knife. Place a large serving plate over the pan and invert it so that the tart is turned out onto the plate. (NB: Cover the pan handle with a tea towel before handling as it will still be hot.)

Serve wedges of the apricot upside-down tart, warm or cold, with cream or ice cream.
How-to videos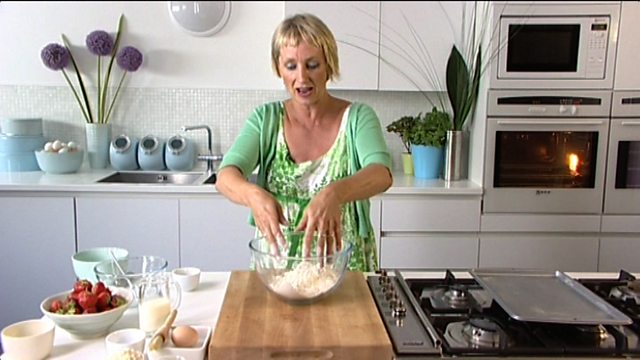 This recipe is from…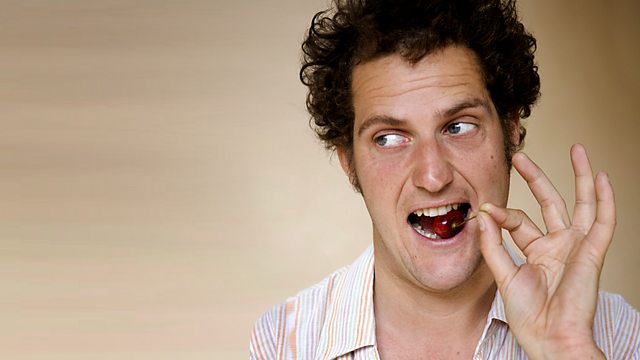 What to Eat Now
Episode 3
BBC Two
Recipes from this episode