Quick recipe finder Apple and blackberry crumble with vanilla crème anglaise

By Ed Baines From Put Your Money Where Your Mouth Is
Ingredients
For the crumble
30g/1¼oz unsalted butter
3 large Bramley apples, or similar tart cooking apples, peeled, cores removed, each apple cut into 0.5cm/¼in slices
150g/5¼oz caster sugar
80g/3oz fresh blackberries
For the crumble topping
For the vanilla crème anglaise
Method
Preheat the oven to 180C/350F/Gas 4.

For the crumble filling, heat the butter in pan over a medium heat. Add the apple slices and fry for 3-4 minutes, or until softened.

Add the sugar and stir well to coat the apples. Continue to cook until the apples are tender and golden-brown and the sugar has melted.

Add the blackberries and stir gently to combine.

For the crumble topping, sift the flour into a large mixing bowl. Add the butter and sugar and rub together, using your fingertips, until the mixture resembles breadcrumbs.

Spoon the apple and blackberry filling into a shallow, oval, 23cm/9in ovenproof dish. Sprinkle over the topping mixture to just cover the filling. Transfer the dish to the oven and bake for 20 minutes, or until the topping is pale golden brown and the filling is bubbling.

Meanwhile, for the vanilla crème anglaise, heat the milk, vanilla pod and seeds in a pan until almost boiling.

Beat the egg yolks and sugar together in a bowl until pale and fluffy and well combined.

Slowly pour the hot milk mixture over the egg and sugar mixture, whisking continuously, until all of the milk has been incorporated into the egg and sugar mixture.

Return the mixture to a clean pan and heat over a low to medium heat, stirring continuously, until the mixture is thick enough to coat the back of a spoon.

To serve, spoon a portion of the apple and blackberry crumble into the centre of each of four serving plates. Drizzle over the vanilla crème anglaise.
How-to videos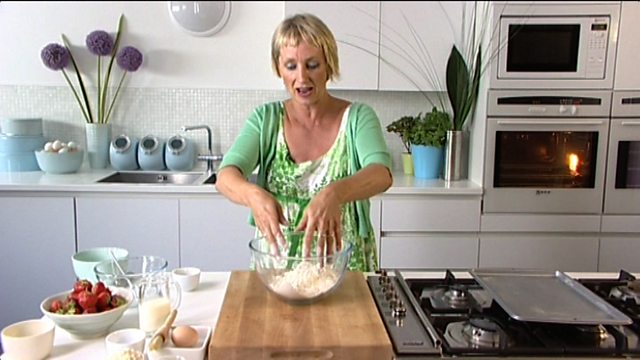 Related Recipes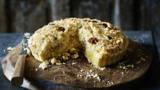 Apple and toffee crumble pie