Quick recipe finder Artichokes Romana style
Francesco Maazei favours Mammole, the traditional variety of artichokes from Rome, for this classic Italian dish, but others could be substituted. Whichever variety you use, choose globes that are heavy, firm and plump.

By Francesco Mazzei From Saturday Kitchen Best Bites
Ingredients
Method
Preheat the oven to 180C/350F/Gas 4.

Pull off the tough outer leaves from each artichoke and cut off the stalks. Trim off the tops of the leaves with a pair of kitchen scissors and rub each artichoke with the cut lemon to prevent them from discolouring.

Finely chop one of the garlic cloves and mix it with the salt and the anchovy fillets in a bowl to form a paste.

Add the chopped herbs to the paste with the pecorino and breadcrumbs; mix well.

Rinse the artichokes under cold running water, shake off any excess water and gently prise the artichokes leaves open.

Sprinkle the artichokes with a pinch of salt and rub the paste inside the leaves.

Heat the olive oil in an ovenproof pan. Thinly slice the remaining garlic cloves and add them to the pan, then add the artichokes and potatoes.

Add the white wine, let it bubble and then add the vegetable stock.

Cover the artichokes with greaseproof paper and place a lid on the pan. Bake in the oven for 35-45 minutes. Serve hot or warm.
Find a recipe on Quick & Easy Vegetarian Search 's recipes
Related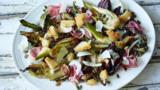 Slow-cooked vegetables
This recipe is from…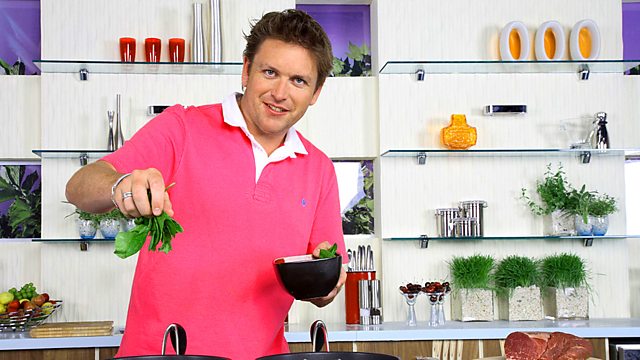 Saturday Kitchen Best Bites
Episode 126
BBC One
from this episode
Follow Like Follow Find a recipe on Quick & Easy Vegetarian Search 's recipes