Quick recipe finder Wensleydale apple pie
By Elizabeth Guy From Countryfile Summer Diaries
Ingredients
Method
Preheat the oven to 180C/350F/Gas 4.

Peel the apples and slice thickly.

Place in a pan with two tablespoons of water and cook until softened – the apples need to retain their shape, but should be starting to fluff around the edges.

Remove from heat and pour off any excess liquid. Add all but a teaspoon of the sugar to the apples and stir. Leave to cool.

Grease a pie dish with lard. Roll out 200g/7oz of the pastry into a circle the shape of your pie dish, and then carefully line the dish with the pastry.

Put half of the apple mixture into the pie dish and flatten. Arrange the slices of cheese on top. Place the remaining apples on top of the cheese.

Roll out the rest of the pastry to the size of the pie dish. Dampen the edge of the pastry lining the pie dish with water. Cover with the prepared pastry lid. Press around the edges with the flat of your thumb to seal the pie.

Brush the top of the pie with water and sprinkle the remaining spoonful of sugar over the top.

Cut two slits in the centre of the pie to allow steam to escape while the pie is cooking.

Place in the bottom shelf of the oven and cook for around 35 minutes until golden brown – check the pie after 20 minutes and if it's getting too brown, reduce the temperature to 160C/300F/Gas 2).

Allow to cool and serve warm with whipped cream.
How-to videos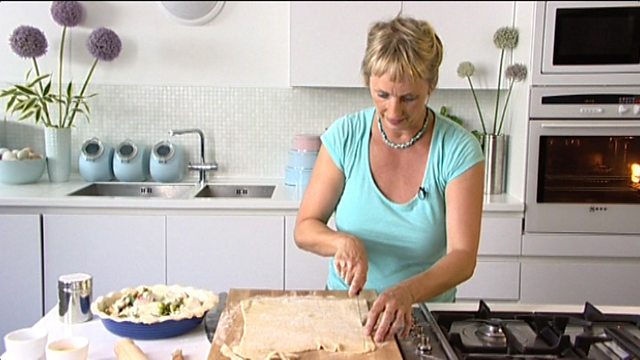 Covering a pie with a pastry lid
Related Recipes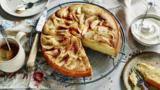 German apple cake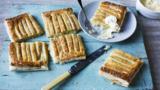 Bramley apple slice