Quick recipe finder Vegetables cooked in turmeric and rice vinegar
This soupy, Asian-style vegetable dish is great either as a side or a light main course – try it with baked spiced fish.
By Bobby Ananta From Nigel Slater: Eating Together
Ingredients
For the spice paste
For the vegetables
2 tbsp vegetable oil
2 lemongrass stalks, bruised slightly (crush a little with a rolling pin)
2 bay leaves
2cm/¾in piece fresh galangal, slightly crushed
3cm/1¼in piece fresh root ginger, slightly crushed
3 kaffir lime leaves
400-500ml/14-17fl oz coconut milk
250g/9oz green beans, washed, trimmed, cut 5mm/¼in lengths
400g/14oz carrots, trimmed, cut into 5mm/¼in cubes
50g/1¾oz shallots, cut into small pieces
1 cucumber, cut in half lengthways, seeds scraped out, flesh chopped into 7mm/¼in cubes
12 red bird's-eye chillies, left whole
3 tbsp rice wine vinegar
2 tbsp caster sugar
1 tsp salt
Method
For the spice paste, grind all of the spice paste ingredients to a paste in a mortar and pestle. Set aside.

For the vegetables, heat the vegetable oil in a wok over a high heat. Add the spice paste and fry for 2-3 minutes, or until fragrant.

Add the lemongrass, bay leaves, galangal, ginger and kaffir lime leaves, then pour in the coconut milk and bring the mixture to a simmer, stirring well. Simmer for 5-10 minutes, or until the coconut milk has reduced in volume and thickened slightly.

Add the green beans, carrots and shallots and continue to simmer for a further 5-10 minutes, or until tender. Add cucumber and chillies and simmer for a further 2-3 minutes.

Stir in the rice wine vinegar, sugar and salt, and continue to simmer for a final 2-3 minutes. Check the seasoning, adding more vinegar, sugar or salt, to taste.

Just before serving, remove the lemongrass stalks and bay leaves. Serve in bowls.
Related Recipes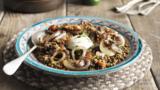 Sweet onions with lentil stew
This recipe is from…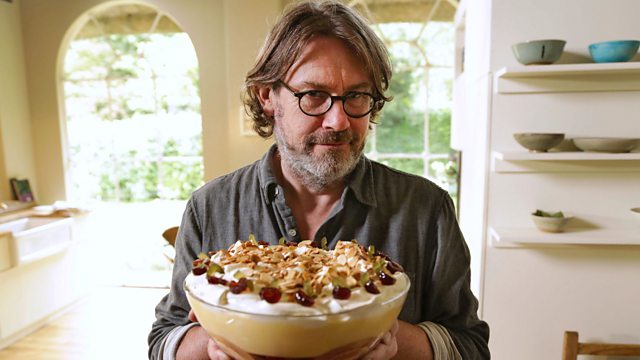 Nigel Slater: Eating Together
5. Sharing Plates
BBC One
Recipes from this episode