Quick recipe finder Sausage and ricotta pasta bake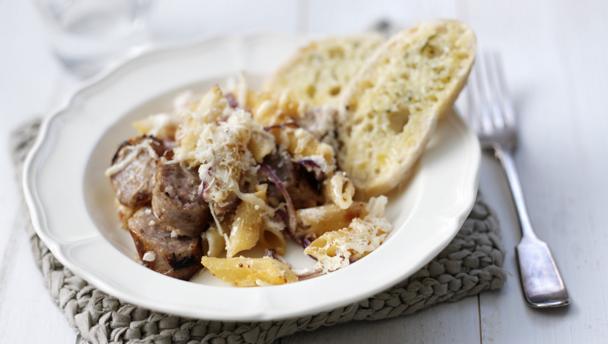 Looking for wholesome student food? This hearty pasta bake is easy on the wallet and is great for feeding a hungry family too.

By Simon Rimmer From Something for the Weekend
Ingredients
2 tsp vegetable oil
2 red onions, peeled, sliced
1 red chilli, finely chopped
2 garlic cloves, sliced
200g/7oz good-quality herb sausages, grilled until completely cooked through, cooled, thickly sliced
350g/12oz penne, cooked according to packet instructions, drained
200g/7oz ricotta
2 ripe tomatoes, finely chopped
100g/3½oz parmesan shavings, plus extra to serve
To serve
Method
Preheat the oven to 180C/350F/Gas 4.

Heat the oil in a frying pan over a medium heat. Add the onions, chilli and garlic and fry for 3-4 minutes, or until softened.

Add the cooked, sliced sausages, cooked pasta, ricotta and chopped tomatoes and stir well to combine.

Transfer the mixture to an ovenproof dish and sprinkle over the parmesan shavings. Bake in the oven for 10-12 minutes, or until the cheese has melted and is golden-brown.

To serve, divide the baked penne among four serving plates. Sprinkle over the remaining parmesan shavings and the chopped parsley. Place 1-2 slices of garlic bread alongside each serving.
Related Recipes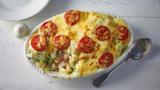 Tuna and broccoli pasta bake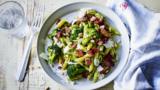 Express bacon and pesto pasta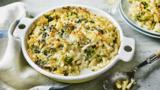 Lighter lemony pasta and spinach bake