Quick recipe finder Mediterranean chicken roulade with mushroom orzo and rocket salad

By Dave Myers From Saturday Kitchen Best Bites
Ingredients
For the Mediterranean chicken roulade
For the mushroom orzo
For the rocket salad
Method
Preheat the oven to 200C/400F/Gas 6.

For the Mediterranean chicken roulade, slice part of the way through each chicken breast, then open out each breast. Sandwich each one between two sheets of cling film and beat with a rolling pin or similar until they are 5mm thick.

Place a slice of pancetta onto a clean work surface and lay one of the chicken breasts on top of it.

Place three of the basil leaves in the centre of the chicken, then top with three slices of the Dolcelatte.

Lay one plum tomato half in each of the two gaps between the cheese. Season with salt and freshly ground black pepper.

Roll the chicken roulade from one end to form a cylinder, securing with a cocktail stick if necessary.

Repeat the process for each of the three remaining chicken breasts.

Heat the olive oil in an ovenproof frying pan until hot, then add the chicken roulades and cook for one minute on each side, or until golden-brown.

Transfer to the oven for 15-20 minutes until the cheese is bubbling and the chicken is cooked through. (The chicken is cooked through when the juices run clear when pierced with a skewer.)

For the mushroom orzo, drain the mushrooms and chop finely.

Heat the olive oil in a frying pan until hot, then add the onion and cook for one minute, until softened.

Add the garlic, the chestnut mushrooms and the porcini mushrooms and cook for a further minute.

Add the orzo pasta and mix until well combined. Add the chicken stock, bring to a simmer, cover with a lid and cook for 5-8 minutes until the orzo pasta has absorbed the liquid and is tender.

Remove the lid, add the lemon thyme, lemon juice and parmesan and stir well. Season to taste with salt and freshly ground black pepper.

For the rocket salad, mix the olive oil and balsamic vinegar in a bowl. Place the rocket leaves into a serving bowl and pour the dressing over them. Sprinkle with the parmesan shavings and season to taste with salt and freshly ground black pepper. Toss the rocket salad until combined.

To serve, pile some salad onto each serving plate and spoon some mushroom orzo alongside. Cut the chicken roulades into thick slices and arrange them on top of the orzo.
This recipe is from…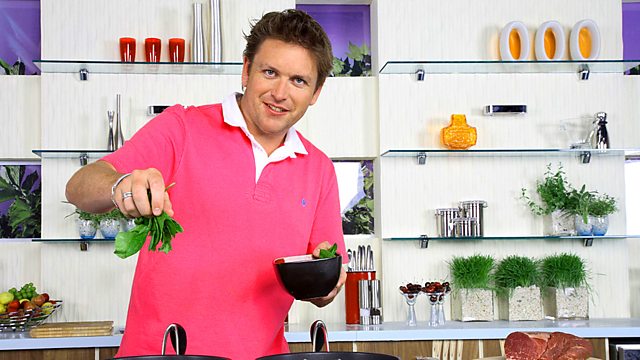 Saturday Kitchen Best Bites
Episode 86
BBC One
Recipes from this episode