Quick recipe finder Meat-free chilli con carne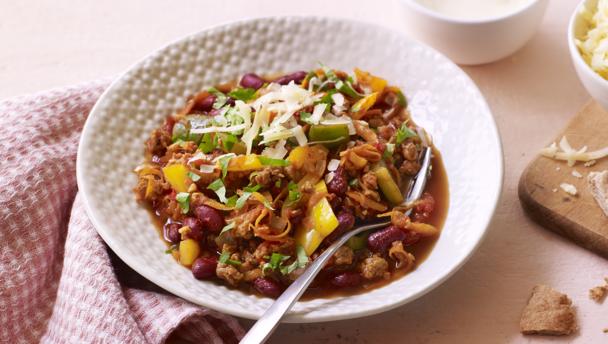 This chilli packs a real flavour punch and is super simple to make.
Find out how you could cut your food bills with the Eat Well for Less quiz.
Ingredients
To serve
Method
Heat the oil in a large frying pan over a medium heat. Add the onion and garlic and cook for 4-5 minutes, or until soft.

Add the red chilli, cumin, paprika and chilli powder and cook for 1 minute. Add the soya mince and cook for 2-3 minutes.

Add the chopped tomatoes, tomato purée, vegetable stock, peppers and carrot and bring to the boil. Reduce the heat to medium-low and simmer for 10 minutes, stirring occasionally.

Add the kidney beans and cook for 5 minutes. Mix the cornflour with 1 tablespoon water, then add it to the pan and cook for a further 5 minutes. Stir in the coriander.

Serve the chilli with the pitta halves, sour cream and grated cheese.
Related Recipes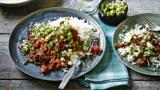 Spicy chilli con carne with guacamole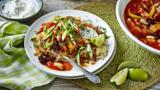 Smoky bean chilli with quinoa
This recipe is from…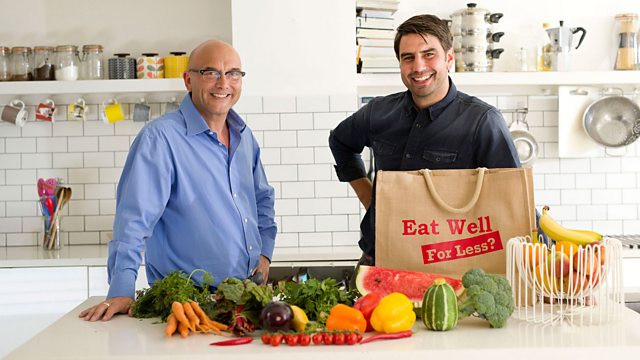 Eat Well for Less?
2. The Saini Family
BBC One