Quick recipe finder Meat and potato pie
A hearty pie for a comforting supper. For a variation, try adding carrots or other root vegetables.
By Christine Parker From Hairy Bikers' Meals on Wheels
Ingredients
For the filling
For the pastry
For the glaze
Method
Preheat the oven to 200C/400F/Gas 6.

For the filling, boil the meat in the stock for approximately one hour. Add the potatoes, cook until they begin to soften then season to taste with salt. Continue cooking until the potatoes are very soft and the mixture has thickened then set aside and allow to stand for about 30 minutes.

For the pastry, sift the flour into a bowl and rub in the margarine and lard until the mixture resembles fine breadcrumbs.

Add the salt and mix in enough soda water to form a stiff dough. Wrap the dough in cling film and chill in the fridge for 20-30 minutes.

Spoon the cooked meat mixture into a pie dish and moisten the edges of the dish with a little water.

Roll out the pastry on a floured work surface to a 1cm/½in thickness and place it on top of the pie dish. Trim the pastry, then seal and crimp the edges. For the glaze, mix together the egg and milk and brush it over the pastry.

Bake the pie in the oven for 30-35 minutes or until the pastry is golden-brown. Let the pie stand for five minutes before serving.
Related Recipes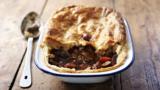 How to make steak and ale pie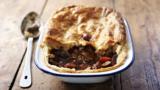 How to make steak and ale pie
This recipe is from…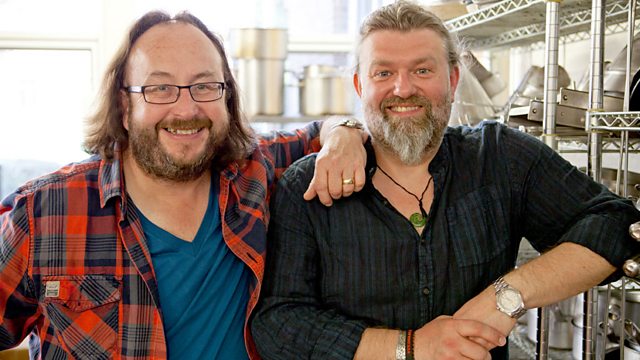 Hairy Bikers' Meals on Wheels
Episode 3
BBC Two
Recipes from this episode