Quick recipe finder Masala chai baklava
Tea-scented baklava topped with flaked almonds and cashew nuts. Fresh ginger adds a refreshing note and a spicy kick.

By Chetna Makan From The Great British Bake Off
Ingredients
For the filling
For the syrup
For the filo
Method
For the filling, combine the almonds, cashews and cardamom in a blender and pulse until finely chopped. Set aside.

To make the syrup, combine the sugar, honey, tea bags, cardamom and ginger with 200ml/7fll oz water in a medium saucepan and heat until the sugar is dissolved. Lower the heat and simmer for 15-20 minutes then set aside to cool.

When the syrup has reached a safe temperature, sieve the syrup and leave to cool completely in the freezer.

Preheat the oven to 180C/350F/Gas 4 and grease a baking tray with butter.

Brush a sheet of pastry with butter then fold it over. Spread about a tablespoon of the filling mixture over it, leaving a 5mm/¼in border on all sides.

Starting at one of the long edges, roll up the filo into a long cylinder shape. Brush generously with butter and roll the cylinder into a tight spiral. Brush with butter again and place on the prepared baking tray. Repeat the process with the remaining sheets of filo and place them next to each other in the baking tray.

Bake for 50 minutes, or until golden-brown.

When cooked, spoon half the syrup all over the baklavas. Leave for five minutes and then spoon over the remaining syrup. Let the baklava cool a little, then serve.
How-to videos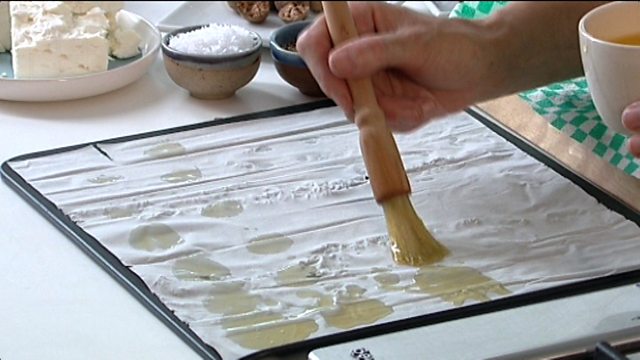 Related Recipes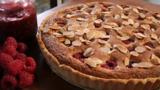 Raspberry, peach and almond tart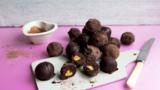 Easter simnel truffles
This recipe is from…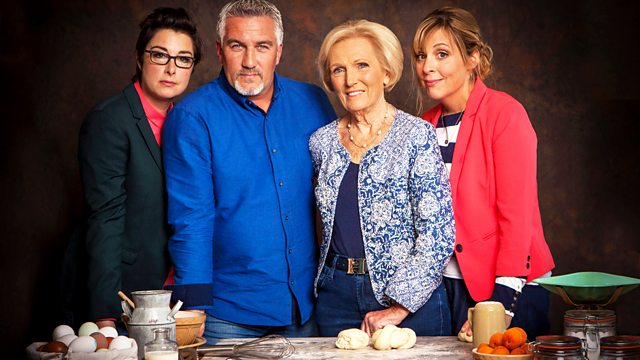 The Great British Bake Off
9. Semi-final – Patisserie
BBC One
Recipes from this episode