Quick recipe finder Ma's macadamia salad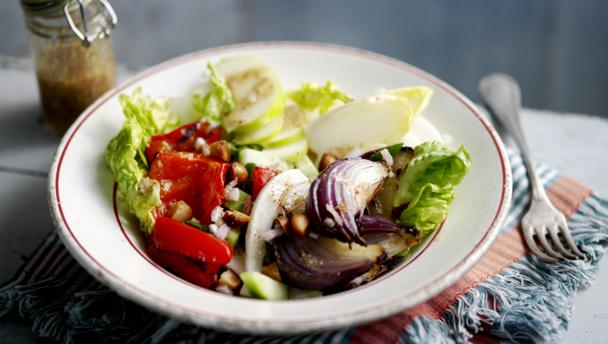 This is a great winter salad for freshening up your diet – crisp veg and crunchy nuts, lightly dressed with vinaigrette.
This meal is low calorie and provides 321 kcal, 4g protein, 16g carbohydrate (of which 14g sugars), 27g fat (of which 4g saturates), 5g fibre and 0.3g salt per portion.

By Thomasina Miers
Ingredients
2 red onions, halved, cut into wedges
2 red peppers, seeded, cut into chunks
1-2 tbsp extra virgin olive oil
120g/4½oz macadamia nuts
½ cucumber, peeled
3 spring onions, finely chopped
2 shallots, finely chopped
2 chicory heads, hearts removed, coarsely chopped
½ fennel bulb, chopped
1 tart green apple (such as Braeburn or Granny Smith) peeled, chopped
3 Baby Gem lettuces, chopped
sea salt and freshly ground black pepper
For the French dressing
Method
Preheat the oven to 200C/400F/Gas 6.

Toss the onion and red pepper in the olive oil and roast in the oven for 30 minutes.

Toast the macadamia nuts in a small roasting tin for 5-7 minutes in the same oven, until they are a lovely caramel colour. Remove the macadamias from the oven and chop coarsely, then set aside to cool while the onion and pepper finish cooking.

Slice the cucumber into quarters lengthways. Now slice down each length, cutting out the seeds (which are watery and would make your salad wishy-washy). Chop the remaining flesh.

For the French dressing, mix all the dressing ingredients except the olive oil in a glass jar with a screw-top lid. Shake well to dissolve the sugar and leave to stand for ten minutes (this takes the onion punch out of the shallot and softens its flavour). Add the oil and shake again.

To serve, mix all the salad ingredients in a bowl, season with salt and freshly ground black pepper, then toss in the French dressing.
Related Recipes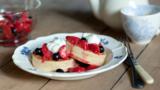 Toasted crumpets and warm spiced berries with yoghurt and honey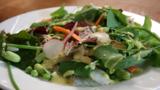 Summer salad