Quick recipe finder Mackerel and bacon salad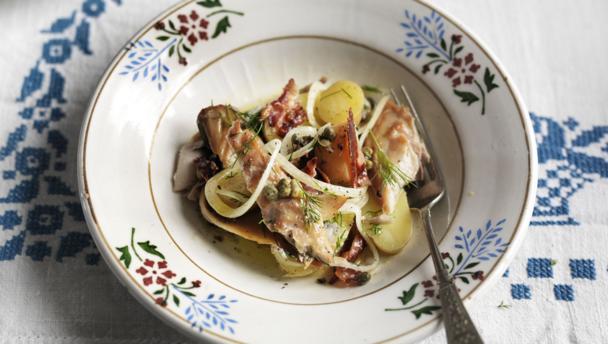 Traditionally surf and turf is all about lobster and steak but I prefer something a little less extravagant. This humble salad combines one of my favourite fish – smoked mackerel – with some crisp, streaky bacon.

By Nigel Slater From Nigel Slater's Simple Cooking
Ingredients
For the salad
For the dressing
For the fish
Method
Preheat the grill to a medium high heat. Line a baking sheet with greaseproof paper.

Peel and finely slice the onion into rings. Put them into a small bowl with the white-wine vinegar and set aside for 10 minutes or more, tossing occasionally. This removes any harshness and will slightly soften the onion's flesh.

Boil the potatoes in deep, generously salted water for 15 minutes until they are tender. Lay the bacon out flat on the lined baking sheet and grill for 10 minutes until crisp.

Take the whole smoked mackerel and peel off the skin. Into a large bowl, flake the mackerel off the bone in large chunks.

While the potatoes are boiling and the bacon is grilling make the dressing. Spoon the mustard into another bowl. Briefly rinse the capers and add to the mustard. Pour in the white wine vinegar; add a little pepper and a few generous glugs of olive oil. Give it a stir.

Chop the dill and add half to the dressing and half to the bowl with the mackerel. Now take the softened onions out of the vinegar and add to the dressing.

When the potatoes are soft to a knifepoint, drain and slice them in half, leaving the skin on, and tip into the dressing to absorb. Mix together and then spoon over the flaked mackerel.

When the bacon is crisp, snip little 4cm/1½in squares over the salad and toss it altogether before serving.
Recipe Tips
The potatoes are best dressed when they are still warm, so they soak up the dressing.
Related Recipes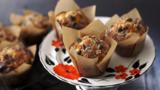 Pumpkin and rosemary muffins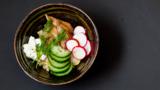 Smoked mackerel, radish, cucumber, dill and bulgur wheat grain bowl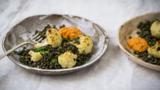 Roasted cauliflower and lentil salad with red pepper sauce
This recipe is from…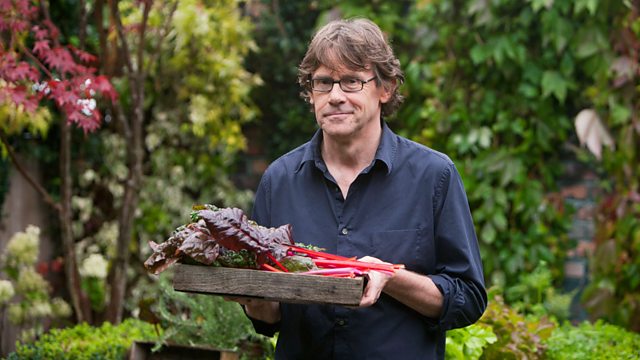 Nigel Slater's Simple Cooking
2. Surf and Turf
BBC One
Recipes from this episode