Quick recipe finder Herby black beans
By Neneh Cherry and Andi Oliver From Neneh and Andi Dish It Up
Ingredients
Method
Heat the olive oil in a large, heavy-bottomed saucepan. Add the onion, pepper, chilli, garlic, herbs and bacon or turkey and cook until the onions and peppers are softened, about 5-10 minutes.

Add the black beans, crumble in the stock cube and add enough water to cover. Reduce heat and simmer gently for 2-3 hours.

When the beans have a stew-like consistency they are ready. Season to taste with sea salt and freshly ground black pepper. Remove any branches of herbs and the hunk of bacon, before dishing up. To serve, garnish with chopped coriander and marjoram.
Related Recipes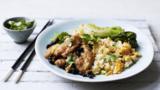 Chicken and black bean sauce with bok choi