Quick recipe finder Fruity Black Forest gâteau
For this showstopper challenge, Jo used icing pens to create the face of Archbishop Desmond Tutu, but you can decorate it how you like.

By Jo Brand From The Great Comic Relief Bake Off
Ingredients
For the chocolate sponge cake
For the chocolate buttercream
For the filling
For the topping
Method
Preheat the oven to 190C/375F/Gas 5. Butter a 20cm/8in deep cake tin and line with baking parchment.

For the chocolate sponge cake, combine all the ingredients in a large mixing bowl and cream together with a handheld electric mixer.

Spoon the batter into the prepared cake tin and smooth the top with a palette knife.

Bake for 50-55 minutes or until a skewer inserted into the centre comes out clean. Remove from the oven and cool in the tin for ten minutes. Then turn out onto a wire rack to cool completely.

For the chocolate buttercream, beat the butter and melted chocolate with a handheld electric mixer and gradually mix in the sifted icing sugar.

When the cake is cool, place on a board or cake turntable and cut the cake horizontally into three equal layers.

Place one layer of chocolate cake onto the serving plate. Spread half the jam on the cake followed by one-third of the whipped cream. Top with the middle cake layer and repeat with the remaining jam and another one-third of the cream. Place the final cake layer on top.

Spoon the chocolate buttercream onto the top of cake and spread to the edges.

Decorate with cherries, blueberries, shaved chocolate and whipped cream.
How-to videos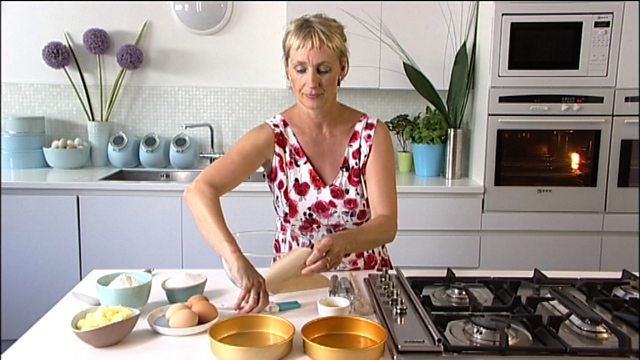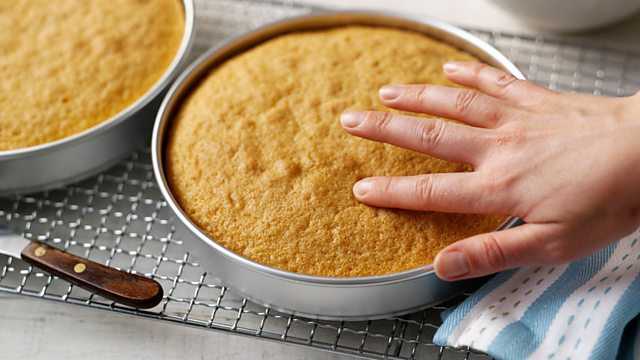 Testing to see if a cake is cooked
Related Recipes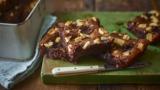 Dark and white chocolate cherry brownies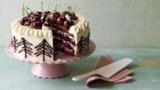 Mary's Black Forest gâteau
This recipe is from…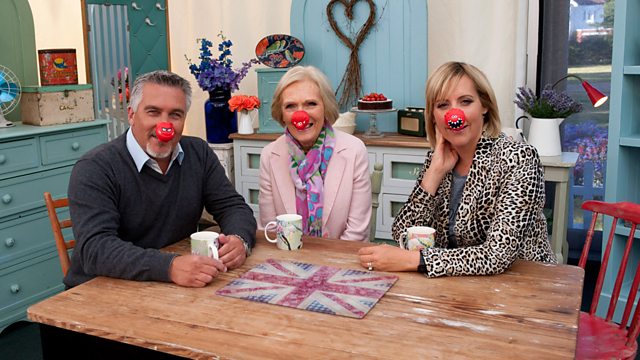 The Great Comic Relief Bake Off
Episode 1
BBC Two
Recipes from this episode