Quick recipe finder Christmas cake wreath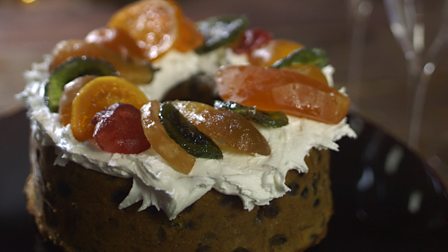 Feed this spicy, fruit-packed Christmas cake right up until the last minute for an extra-special festive treat.
For this recipe you will need a 20cm/8in non-stick savarin cake tin.

By James Martin From Home Comforts at Christmas
Ingredients
For the cake
For the icing
200g/7oz icing sugar
1 free-range egg white
1 tbsp glycerine
150g/5½oz mixed whole glacé fruit, such as dates, cherries and oranges, halved or sliced, to decorate
Method
For the cake, place the apricots, sultanas, raisins, cherries and stem ginger into a bowl and pour over 100ml/3½fl oz of the whisky. Stir in the orange zest and juice to combine, then cover and set aside overnight until the fruit has absorbed all of the liquid.

When the fruit has soaked, preheat the oven to 140C/120C Fan/Gas 1. Grease the inside of a 20cm/8in non-stick savarin cake tin with butter. Fold a large sheet of baking paper into a strip that is 3 layers thick and big enough to wrap around the outside of the tin making a high 'collar' (this will help the cake bake evenly and prevent it over-browning as it bakes). Secure the collar with string.

Beat the sugar and butter in a free-standing food mixer or large bowl for at least 3-4 minutes, or until it has turned a light caramel colour and is fluffy. Crack in the eggs one at a time, beating well after each addition.

Fold in the flour, mixed spice, ground ginger and the soaked fruit until completely combined. Spoon the cake mixture into the prepared tin and smooth the top using a palette knife.

Bake the cake for 1½ hours, or until a skewer inserted into the centre comes out clean (if it does not, cook the cake for a further 10 minutes and check once more).

Remove the cake from the oven and drizzle with the remaining whisky. Set aside to cool in the tin for 15 minutes, then turn out onto a wire rack (see tip about feeding the cake).

For the icing, in a free-standing food mixer, whisk together the icing sugar, egg white and glycerine until thick enough to hold its shape – this will take 3-4 minutes.

When the cake is cold, dollop the icing on top and spread all over the cake using a palette knife. Decorate with the glacé fruit.
Recipe Tips
If making this cake in advance, allow the cake to cool completely after cooking, then wrap tightly in cling film and store in a cool place. Once a week, unwrap the cake and drizzle a little more whisky over the top to 'feed' it. Re-wrap and repeat until Christmas! Ice the cake 2 days before Christmas Day and store in a cool place in the open air so that it sets.
How-to videos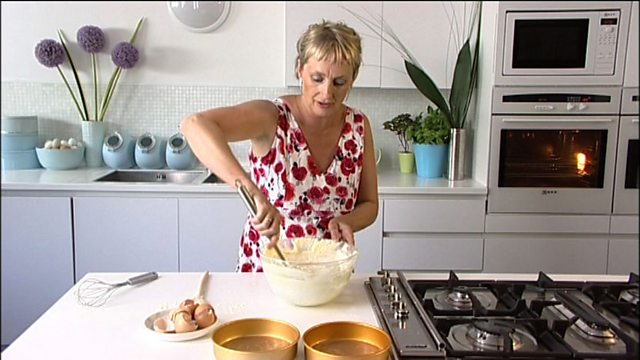 Related Recipes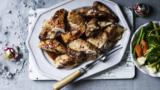 Spiced soy roast chicken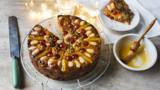 Christmas Genoa cake
This recipe is from…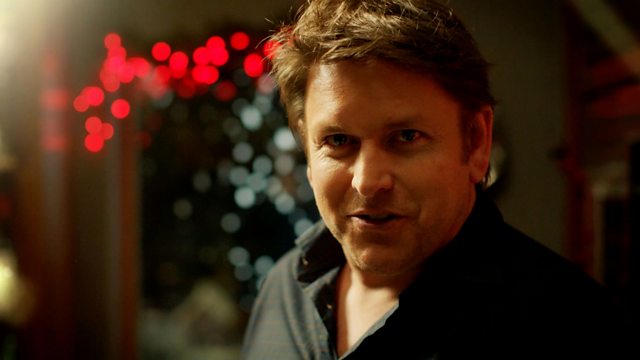 Home Comforts at Christmas
1. Miraculous Make Aheads
BBC One
Recipes from this episode