Quick recipe finder Cheese and tomato chutney turnovers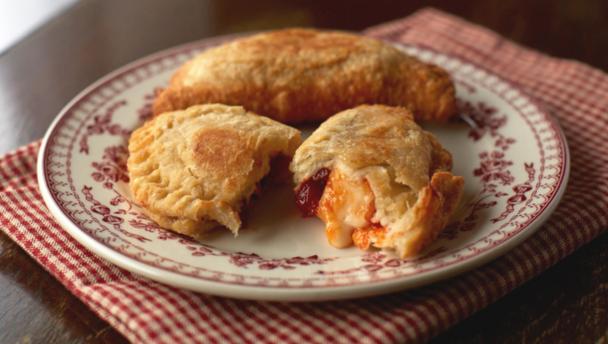 These simple pies are fried in a little oil rather than being baked, which makes them deliciously crisp and golden. Serve warm with a green salad.

By The Hairy Bikers From Hairy Bikers' Best of British
Ingredients
Method
To make the pastry, put the flour and salt into a large mixing bowl and rub in the butter with your fingertips until the mixture resembles coarse breadcrumbs. Slowly add the milk, stirring constantly until the mixture comes together and forms a soft, spongy dough. Knead lightly and form into a ball.

Roll out half the dough on a lightly floured surface until it's roughly 3mm thick. Take a saucer, or an upturned bowl, about 14cm/5½in in diameter and cut around it to make three circles of dough. You can re-knead and roll the dough if necessary. Repeat with the remaining dough.

Remove and discard the rind from the cheese. Cut the cheese into roughly 1cm/½in chunks. Spoon a heaped tablespoon of the chutney into the middle of each round of pastry spreading it out but leaving a 1cm/½in border all around the edge.

Place a sixth of the cheese on one side of each circle. Brush the edges of the dough with a little water. Fold over to encase the filling, pushing out any air, and press the edges together. Press the tines of a fork around the edge of the pastry, pressing firmly through both layers, to ensure the pie is sealed.

Pour the oil into a large non-stick frying pan – it should be around 1cm/½in deep. Place over a medium heat and leave for a couple of minutes, or until the oil is hot enough to brown a cube of white bread in 15 seconds. It needs to be around 150C/300F if you test the temperature with a cooking thermometer. Do not allow the oil to overheat and do not leave the oil unattended. (Use a deep fat fryer if you prefer.)

Using a heatproof spatula, put two of the turnovers into the hot oil and cook for around two minutes on each side, or until lightly browned and slightly puffed up. The cheese inside will be lovely and melted when the turnovers are cut open. If the oil is too hot, the pastry will brown too much before the filling is ready. Remove the turnovers and drain on a plate lined kitchen paper. Cover with foil and keep warm while you cook the rest.

The turnovers can also be reheated in a hot oven for about 10 minutes if you don't need to serve all of them at the same time.
Related Recipes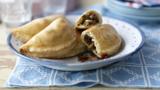 Spiced beef empanadas
Roast squash and tomato soup with chestnuts and bacon and croûtons
This recipe is from…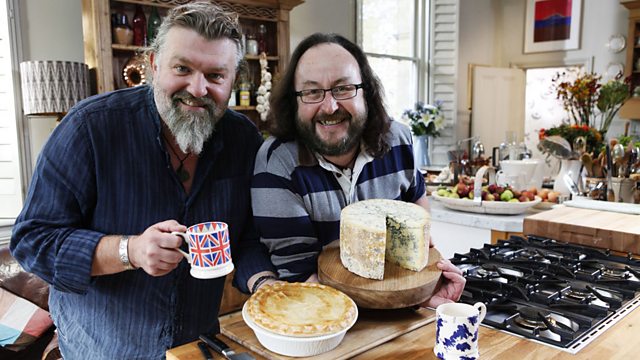 Hairy Bikers' Best of British
6. Dairy
BBC Two
Recipes from this episode