Quick recipe finder Chana gosht – lamb rump with chickpeas with naan bread
A wonderful feast of spiced lamb and richly flavoured chickpea sauce. The recipe makes more Punjabi garam masala spice mix than you will need, but the extra can be kept sealed in a jar for 2-3 weeks.

By Atul Kochhar From Saturday Kitchen
Ingredients
For the Punjabi garam masala
For the chickpeas
For the sauce
For the naan bread
For the lamb rump
For the garnish
Method
To make the garam masala, put all the ingredients in a dry pan over medium heat, shaking the pan to toast the spices evenly.

Cool the spices for a minute and tip them into an electric blender and grind to fine powder, or use a pestle and mortar. Pass through a sieve and set aside.

To cook the chickpeas, drain away the soaking water. Put the chickpeas in a pan of clean water with the bay leaf, cardamom, clove and salt and boil until cooked. Set aside until required.

For the sauce, in a clean pan heat the oil and gently fry the cloves, bay leaf and black cardamom. Add the onions and cook until translucent. Add the ginger-garlic paste and cook well. Add dried powdered spices, salt, tomatoes and enough water to cover the mixture add the chickpeas and simmer for 30 minutes, or until the gravy thickens.

For the naan bread, preheat the oven to 225C/200C fan/Gas 8 and place a thick baking tray into the oven to heat.

Whisk together the sugar, egg and milk in a mixing bowl. In a separate bowl, combine the flour, baking powder and salt.

Add the milk mixture to the flour mixture and knead lightly to make a soft dough – take care not to work the dough too much or it will become too stretchy.

When all the ingredients are mixed thoroughly, cover with a damp cloth and leave to rest, in a warm place, for 15 minutes.

Once rested, pour over the oil and knock the air out of the dough.

Divide the dough into 8 equal-sized balls and roll out into a circle of approximately 10cm/4in diameter.

Spread the circles on the hot tray in the oven. Bake for 4-5 minutes – you might need to turn the bread to ensure it is all cooked. You will also most likely need to cook the bread in batches. Brush with melted ghee.

For the lamb, turn the oven down to 200C/180C Fan/Gas 6.

Sear the rump on a hot pan to colour it on all sides. Dust the rump with the garam masala mixed with salt. Roast in the oven for 5-7 minutes, remove and rest for 3-4 minutes then slice.

In a bowl, mix together the garnish ingredients.

Put the chickpeas on a serving dish and sit the sliced lamb on top. Top with the garnish and serve hot with the naan bread.
Related Recipes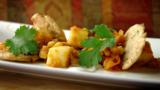 Potato and chickpea dhansak with mini puri
Ottoman lamb with saffron and rosewater rice pilaf
This recipe is from…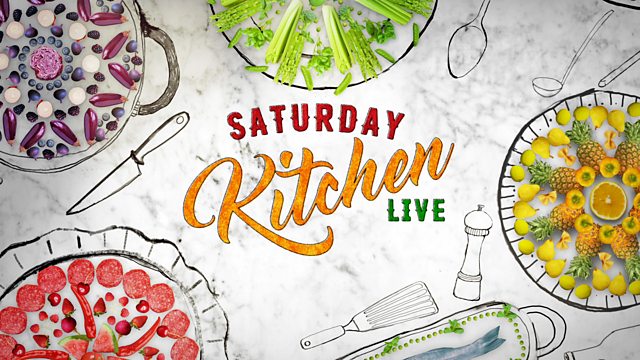 Saturday Kitchen
Saturday Kitchen
BBC One
Recipes from this episode