Quick recipe finder Caramelised scallops with Ibérico ham and butternut squash purée
Sweet, succulent scallops are always a treat, but when paired with an exemplary Spanish cured ham they really shine.

By Jun Tanaka From Chefs: Put Your Menu Where Your Mouth Is
Ingredients
For the squash purée
For the scallops
To serve
Method
For the squash purée, heat the oil and butter in a large pan and gently fry the onion for a few minutes until softened. Add the butternut squash and roast in the pan for five minutes. Pour in the chicken stock and simmer gently for a further 10-12 minutes until tender. Pour in the double cream and season well to taste.

In a food processor, blend the squash until smooth and then pass through a sieve into a clean pan (ready to warm gently just before serving).

For the scallops, season them with salt and pepper. Heat the olive oil in a non-stick frying pan and, once hot, fry the scallops for 1–1½ minutes on each side, until caramelized. Towards the end of cooking add a knob of butter and baste the scallops until golden-brown.

To serve, spoon the butternut squash purée into the centre of each plate. Top with the pan-fried scallops and arrange the Ibérico ham slices among them. Scatter over the chopped almonds to finish.
Related Recipes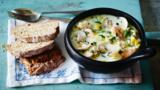 Irish fish chowder with soda bread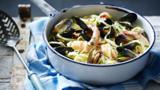 Linguine with prawns and mussels
This recipe is from…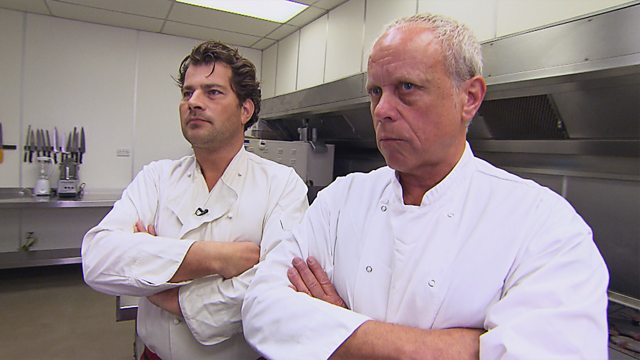 Chefs: Put Your Menu Where Your Mouth Is
13. L'Albufera
BBC One
Recipes from this episode