Quick recipe finder Caramelised pineapple and brioche with spiced ice cream

By Curtis Stone From Saturday Kitchen
Ingredients
Method
In a small copper pan place the sugar and heat it. Once it has dissolved. Increase the temperature and allow the sugar to start to colour. Slowly add the cream once the sugar is golden brown.

Add the pineapple to the caramel and cook for 2 minutes on each side. Remove the pineapple and add the brioche and cook for 30 seconds on each side and remove.

Place the pineapple on top of the brioche and place in the centre of the late. Drizzle a little of the sauce around the plate and place a ball of ice cream on top of the pineapple.
Related Recipes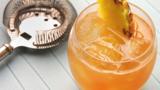 Buena Vida