Quick recipe finder Caramelised peach melba with raspberry coulis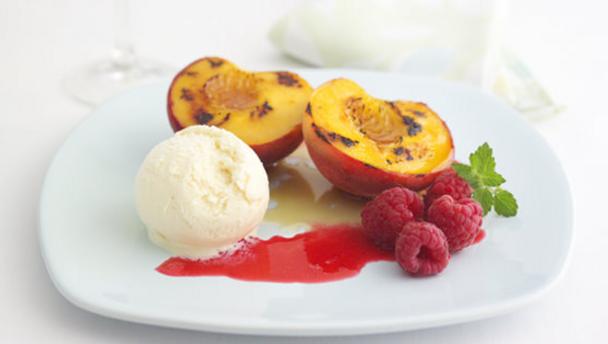 This is a dessert that can be made in minutes, perfect for any summer dinner party with friends.

By Sophie Grigson
Ingredients
For the raspberry coulis
For the peaches
4 ripe peaches
6-8 tbsp caster sugar
4 scoops good-quality vanilla ice cream, to serve
fresh raspberries to garnish, optional
Method
To make the raspberry coulis, put the raspberries, sugar and lemon juice into the bowl of a food processor and blend to a purée.

Set a sieve over a clean bowl and rub the purée through to remove the raspberry pips. Taste and add more sugar if required. Cover with cling film and set aside until needed.

For the peaches, preheat the grill to full heat. Place some aluminium foil over a grill rack. Slice the peaches in half and remove the stones.

Arrange the peach halves on the grill rack, cut sides up. Sprinkle the peach halves generously with caster sugar.

Place the grill rack with the peaches under the grill and grill until the sugar is sizzling and browning.

To serve, arrange two sizzling peach halves on each plate, add a scoop of ice cream and drizzle over some of the raspberry coulis. Garnish with fresh raspberries, if you like, and serve the rest of the raspberry coulis in a small jug.