Quick recipe finder Caramelised chestnut cheesecake

By Phil Vickery From Ready Steady Cook
Ingredients
Method
Place the caster sugar into a frying pan and cook over a medium heat until the sugar has turned a golden-brown colour, shaking the pan to help the sugar dissolve.

Add the chestnuts to the pan and stir the mixture to coat the chestnuts in caramelised sugar.

Pour the chestnuts onto a non-stick silicon mat and leave to cool.

In a large bowl, mix together the double cream, cream cheese and chopped orange.

Grease two 6cm/2½in chefs' rings with butter and place them on a serving plate. Spoon the cream mixture into the chefs' rings.

Use a blowtorch to heat the outside of the chefs' rings; this will help release the cheesecake – you'll be able to slide each one off the chefs' rings easily.

Top with the caramelised chestnuts and sprinkle with chilli powder and a grinding of black pepper.

Serve straightaway or store in the fridge until you are ready to serve.
Related Recipes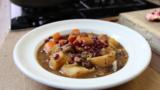 Hearty party hotpot