Quick recipe finder Caramel and coffee cake with a caramel sauce and vanilla ice cream
Adding oodles of caramel to a basic coffee cake makes for an easy dessert to feed a crowd. If you don't have an ice cream maker buy good quality ice cream instead of making your own.

By James Martin From Saturday Kitchen
Ingredients
For the vanilla ice cream
For the caramel and coffee cake
For the caramel sauce
Method
For the vanilla ice cream, whisk the yolks with half the caster sugar in a large bowl until thick and creamy.

Place the milk, cream, the remaining caster sugar, vanilla seeds and vanilla pods in a pan and bring to the boil. Pour the hot milk into the whisked yolks and stir well.

Return the mixture to the pan and cook over a very low heat, stirring constantly with a spatula, until the mixture is thick enough to coat the back of a spoon.

Set aside to cool, then refrigerate for at least one hour.

Strain the mixture into an ice cream maker and churn until frozen, following the manufacturer's instructions.

For the caramel and coffee cake, preheat the oven to 180C/350F/Gas 4. Lightly grease and line the base of two 20cm/8in cake tins.

Whisk the eggs and sugar together in a bowl for 4-5 minutes, or until thick and pale. Sift the flour into a separate bowl, then gently fold it into the egg and sugar mixture until just combined. Stir in the coffee essence and melted butter.

Divide the mixture evenly between the two prepared cake tins.

Place the tins onto a baking sheet and bake in the oven for 15-20 minutes, or until the cakes are risen and springy to the touch. Remove from the oven and allow to cool briefly before turning out onto a wire rack to cool completely.

Lay the sliced pineapple on one of the cakes. Mix the cream cheese, icing sugar, maple syrup, caramel and double cream in a large mixing bowl and spread over the pineapple slices. Place the other cake on top and dust with icing sugar.

For the caramel sauce, melt the sugar and butter in a saucepan set over a low heat. When liquid and combined stir in the cream.

Serve the cake in slices with a scoop of vanilla ice cream and a little sauce poured over.
Related Recipes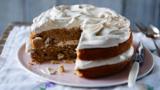 Coffee and walnut cake
This recipe is from…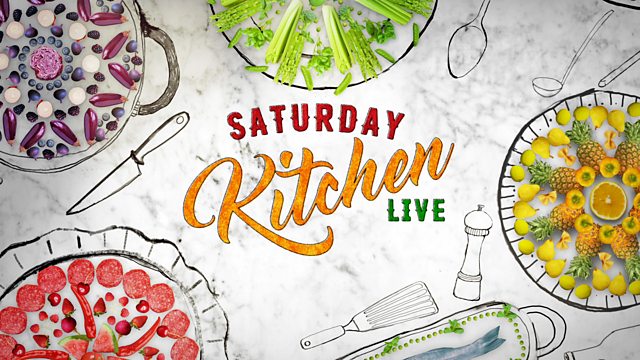 Saturday Kitchen
01/02/2014
BBC One
Recipes from this episode