Quick recipe finder Cappuccino profiteroles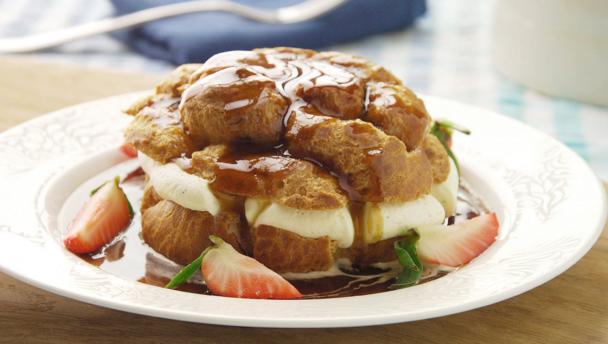 Mix perfect profiteroles with a coffee sauce for an unusual dessert.

By Simon Rimmer From Something for the Weekend
Ingredients
For the choux pastry
For the filling
For the sauce
Method
Preheat the oven to 200C/400F/Gas 6.

For the choux buns, place the butter and water into a saucepan over a high heat and heat until the butter melts and the mixture boils.

Take the pan off the heat, add the flour and mix well.

Add the eggs, one at a time, beating the mixture with a wooden spoon to incorporate well before adding the next egg. Beat until a loose dough is formed, then season with a pinch of salt. Allow to cool slightly.

Transfer the dough to a piping bag. Pipe eight golf ball-sized 'blobs' of pastry onto a floured baking tray. The thing to remember is that the pastry will double in size while baking, so leave plenty of space on the sheet between the blobs of dough to allow them to expand.

Transfer to the oven and bake for 30-40 minutes, until golden and firm on the outside and dry in the middle. Remove from the oven and leave to cool on a wire rack.

For the filling, whisk the whipping cream, vanilla seeds and icing sugar in a clean bowl, until it becomes thick and stiff peaks form when the whisk is removed from the mixture. Fill a clean piping bag with the cream mixture.

To make the sauce, place the sugar, water and vanilla seeds into a saucepan. Bring to the boil then simmer over a low heat for 15 minutes, until thickened to a syrup.

Add the coffee liqueur and espresso shots and simmer for a few minutes more, until thickened again.

To finish, make a small hole in the base of each profiterole with the tip of a knife and, using the full piping bag, pipe in some of the vanilla cream.

To serve, place each profiterole into the middle of a plate and pour over some warm espresso sauce.
Related Recipes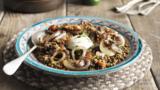 Sweet onions with lentil stew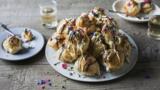 Profiteroles with cheat's custard
This recipe is from…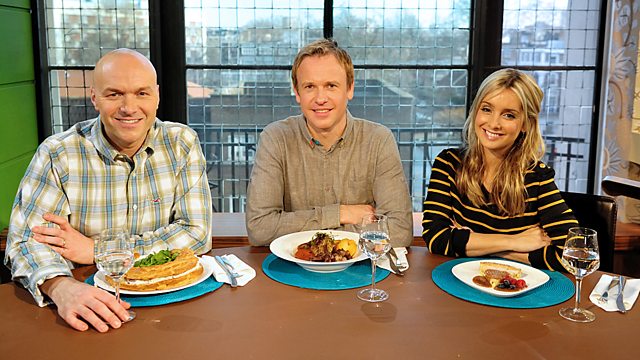 Something for the Weekend
04/03/2012
BBC Two
Recipes from this episode