Quick recipe finder Cappuccino éclairs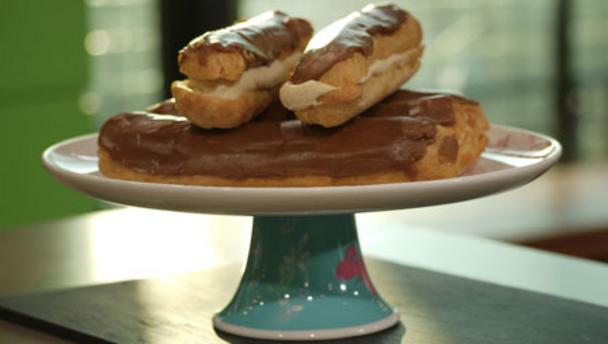 Homemade éclairs are so satisfying to make and this recipe will whip you into coffee heaven for a moment of sweet bliss.
Equipment and preparation: You'll need a piping bag fitted with a large plain nozzle.

By Simon Rimmer From Something for the Weekend
Ingredients
For the pastry
For the filling
For the topping
Method
Preheat the oven to 200C/400F/Gas 6.

For the pastry, place the butter and water in a saucepan and bring up to the boil.

Once the butter has melted, take the pan off the heat and tip in all the flour and ginger. Beat well with a wooden spoon until the mixture comes away from the sides of the pan.

Beat in the eggs one at a time until completely incorporated. Stir in the salt.

Transfer the mixture to a piping bag and allow to cool for a few minutes.

Pipe 6-8 lengths of dough onto a floured baking sheet. The pastry will double in size as it cooks, so give the éclairs plenty of space to expand on the baking sheet. Bake for 30 minutes, or until golden-brown and crispy. Set aside to cool.

Whisk the cream and vanilla together in a bowl until it forms soft peaks when the whisk is removed. Whisk in the icing sugar and coffee until well combined.

Slice the éclairs in half lengthways and fill with the coffee cream mixture. (This can be done with a piping bag fitted with a wide nozzle.)

For the topping, place all the ingredients apart from the icing sugar into a pan and heat gently until the sugar has dissolved.

Take the pan off the heat and gradually sift in the icing sugar, stirring well. Allow to cool, stirring occasionally.

When the sauce has cooled and thickened, spread it on top of the éclairs and serve.
Related Recipes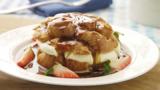 Cappuccino profiteroles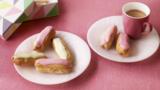 Raspberry and pistachio éclairs
This recipe is from…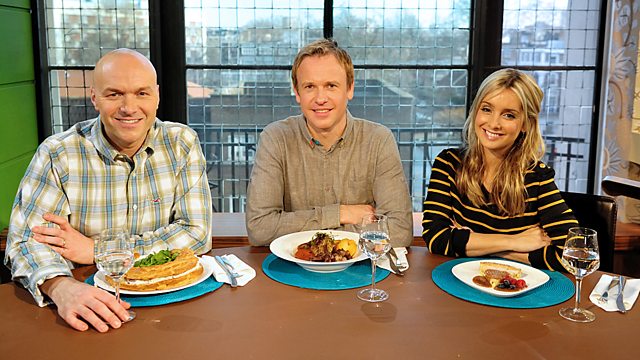 Something for the Weekend
02/10/2011
BBC Two
Recipes from this episode