Quick recipe finder Cafriela de Frango from Guinea-Bissau
This West African dish cooks marinated chicken pieces on the hob before grilling them to brown. And it's loaded with flavour from garlic, onions and chillies.
By Abdon Manga
Ingredients
Method
Season the chicken pieces with salt and marinate in a bowl with the garlic, chilies, half the sliced onions and lemon juice. After a few hours in the fridge, add the oil and transfer the mix to a large saucepan or stew pot.

Add a small cup of water and cook over a medium heat, covered, for 30 minutes, until the chicken is cooked through, adding a little more water if it is drying out. Strain and reserve the excess liquid, and finish the chicken by grilling it for 15 minutes or so on a barbecue or in the oven.

In the meantime, return the liquid to the stove and reduce, adding a little oil and the rest of the finely sliced onions. Cook over a medium heat for twenty minutes, adding more lemon juice and chilies if you like. When the chicken is well-browned, place it onto a serving plate and pour the sauce over it.
Related Recipes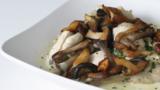 How to cook chicken in tarragon sauce