Quick recipe finder Cabbage pesto, steamed turbot and Lincolnshire potato royal
The humble cabbage is transformed into an unusual pesto here to go with simply steamed turbot and decadent cheesy potatoes.

By Jason Atherton From Great British Food Revival
Ingredients
Method
Preheat the oven to 180C/350F/Gas 4. Separate the cabbage heart by removing the looser leaves from the outer layers but leaving the tighter centre leaves attached to the stem. Bring a large pan of water to the boil, add the outer cabbage leaves and cook until tender. Remove with a slotted spoon into a bowl of iced water to refresh. Return the water to the boil and cook the centre leaves until tender then drain and refresh in iced water.

Line a baking tray with a large piece of buttered greaseproof paper, season the turbot and place on the paper. Fold the paper over like a parcel and carefully turn it over so the join is at the bottom. Place in the oven and cook for 7-8 minutes until the fish is just cooked through.

Put the large blanched cabbage leaves, pine nuts, parmesan and oil in a blender, pulse until smooth then season with sea salt and freshly ground black pepper and lemon juice.

Meanwhile, cook the potatoes in a pan of boiling water then drain well and peel. In a small pan, melt the Poacher cheese with the crème frâiche. Coat the potatoes in the melted cheese and check the seasoning. Cut the blanched cabbage centre into quarters. Melt a little butter in a pan and fry the cabbage until it starts to colour.

To serve, place the cabbage on a plate and top with a portion of turbot. Arrange the potatoes around the fish, spoon over the cabbage pesto and garnish with the chickweed.
Related Recipes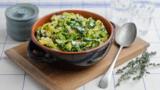 Thyme-buttered cabbage
This recipe is from…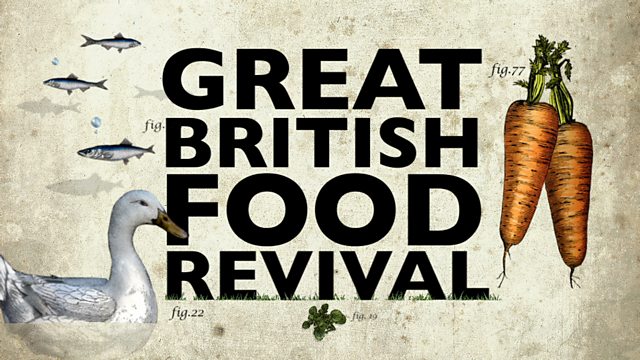 Great British Food Revival
6. Herbs and Cabbage
BBC Two
Recipes from this episode