Quick recipe finder Butterfly buns with lemon, raspberry and passionfruit icing
Cause a flutter at teatime by serving these dainty butterfly cakes made with three kinds of fruity icing.

By James Martin From Saturday Kitchen
Ingredients
For the lemon icing
For the raspberry and passion fruit icing
Method
Preheat the oven to 180C/350F/Gas 4 and line a 12-cup muffin tin with paper cases.

Place the butter and sugar in a large glass bowl and cream using an electric hand whisk. Add the vanilla essence and slowly add the eggs two at a time, beating between each addition.

Combine the baking powder and the flour and then gently fold them into the egg mixture.

Divide the mixture between the muffin cases. Bake in the oven for 15 minutes, or until golden-brown. Remove from the oven and leave to cool on a wire rack. When completely cooled, cut the tops off the cakes and then cut the tops in half for making butterfly wings.

For the lemon icing, place the whipped cream in a large bowl and add the lemon curd and mix until slightly marbled. Place the icing in a piping bag and pipe swirls onto the top of four of the cakes. Place the cake wings on top and dust with icing sugar.

For the raspberry and passion fruit icing make an Italian meringue. To do this place the sugar and 125ml/4½fl oz water into a pan and slowly bring to the boil until the syrup reaches 121C/250F on a sugar thermometer then immediately remove the pan from the heat.

Meanwhile, place the egg whites into a food processor and whisk until firm peaks form when the whisk is removed. With the beater at its lowest speed, pour in the sugar syrup, in a steady stream, making sure the syrup is clear of the beaters. Continue beating for about five minutes, while adding the softened butter until the meringue is tepid.

Divide the mix into two bowls, in one bowl add the pink food paste and in the other bowl add the yellow food colouring and the scooped out passion fruit seeds. Put the coloured mixes into two separate piping bags.

For the raspberry buns place a raspberry in the bottom and pipe the raspberry coloured meringue on top and top with the wings.

For the passion fruit buns, pipe the passion fruit meringue in the centre and top with the wings.

To serve, place all three different type cakes on a cake stand and serve with a cup of tea!
How-to videos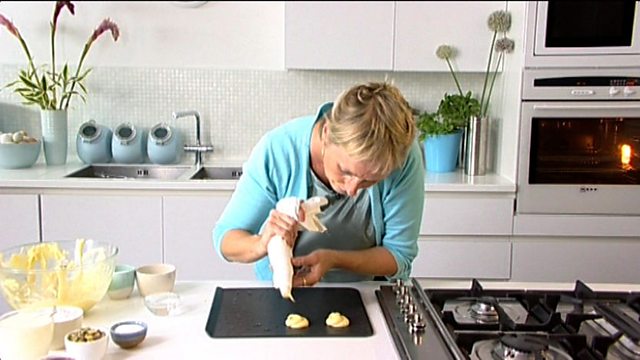 Related Recipes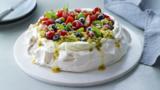 Pavlova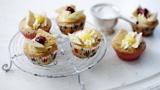 How to make fairy cakes
This recipe is from…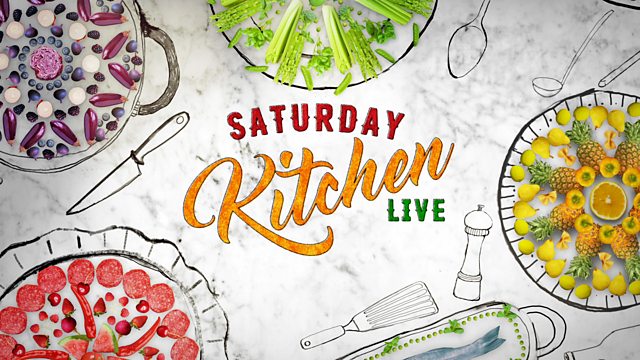 Saturday Kitchen
13/04/2013
BBC One
Recipes from this episode