Quick recipe finder Brown shrimp and potato salad
Warm potatoes, oozing poached egg yolk and a herb-filled shrimp salad combine in this comforting spring supper.

By Glynn Purnell From Great British Food Revival
Ingredients
For the shrimps and potatoes
3 large potatoes, peeled, sliced into discs 1cm/½in thick
200g /7oz salted butter, melted
500g/17oz peeled shrimps
1 tbsp chopped fresh tarragon
4-5 tbsp mayonnaise, preferably homemade
salt and freshly ground black pepper
To serve
Method
Preheat the oven to 180C/350F/Gas 4.

Layer the potato slices in the bottom of an ovenproof dish. Pour over the melted butter. Cook in oven for 15-20 minutes, or until the potatoes are tender.

Meanwhile, in a bowl, mix together the shrimps and tarragon. Stir in the mayonnaise a little at a time until the ingredients are combined. (NB: You may not need all of the mayonnaise – just use enough to bind the salad ingredients). Season to taste with salt and freshly ground black pepper.

To serve, place the watercress leaves into a large bowl, drizzle over the olive oil and season, to taste, with salt and freshly ground black pepper.

Place a spoonful of the cooked potatoes into the centre of each of four serving plates. Spoon over the shrimp salad on top, making a small indentation into the centre of each portion. Arrange a few dressed watercress leaves alongside.

Heat a pan of water to 70C/150F. Remove the pan from the heat and gently lower the egg yolks into the water. Poach gently until just cooked, or until cooked to your liking.

Remove the egg yolks from the pan one at a time using a slotted spoon. Place one into the indentation in each portion of shrimp salad. Serve immediately, with warm savoury muffins.
Related Recipes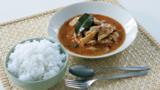 Chicken Thai red curry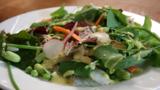 Summer salad
This recipe is from…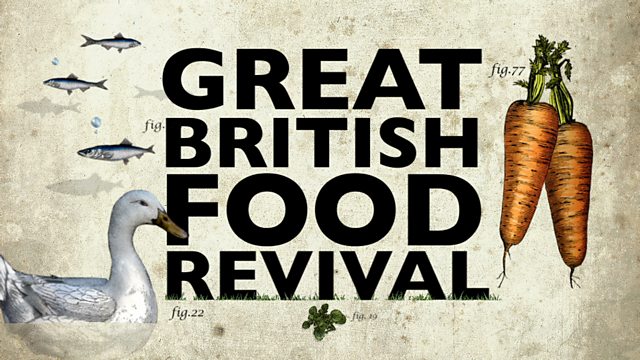 Great British Food Revival
7. Shrimp and Duck
BBC Two
Recipes from this episode