Quick recipe finder British seaside chowder with saffron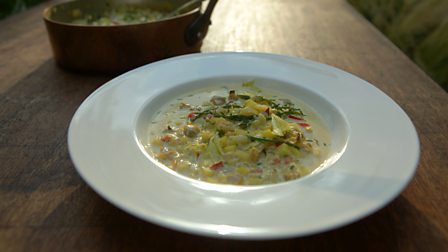 This quick, simple soup works wonderfully with all sorts of local seafood, so throw in whatever is readily available.

By James Martin From James Martin: Home Comforts
Ingredients
Method
Bring the wine to the boil in a large lidded saucepan. Add the shellfish, cover the pan with the lid, reduce the heat until the wine is simmering, and simmer the shellfish for 3-5 minutes, or until all the shells have opened (discard any that do not open).

Drain the shellfish, reserving the cooking liquor in a bowl. When the shellfish is cool enough to handle, pick the meat from the shells.

Heat the butter in a large saucepan over a medium heat. Add the shallot and garlic and fry for 1-2 minutes, or until softened. Add the fennel, leek, potatoes, saffron and star anise and fry for a further 1-2 minutes.

Add the reserved cooking liquor and the chicken stock and bring the mixture to the boil. Reduce the heat until the mixture is simmering and simmer for 3-4 minutes, or until the potato cubes are just tender.

Add the cream and samphire and continue to simmer for 1-2 minutes, or until the soup has thickened slightly. Reduce the heat to low, then add the tomatoes and shellfish meat, including the whelks. Heat until the meat is warmed through.

Stir in the chives and celery leaves, season, to taste, with a little salt and freshly ground black pepper, then serve.
Recipe Tips
Tip 1: If you are using clams and mussels, remove the beards before cooking. Discard any shellfish whose shells do not open during cooking.
Tip 2: To remove the tomato skins, make a cross in the bottom of the tomatoes, place them into boiling water for 30 seconds, then transfer to ice-cold water; the skins should loosen enough to be pulled off.
Related Recipes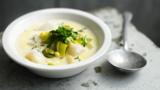 Smoked haddock chowder with leeks and sweetcorn
Seafood chowder
This recipe is from…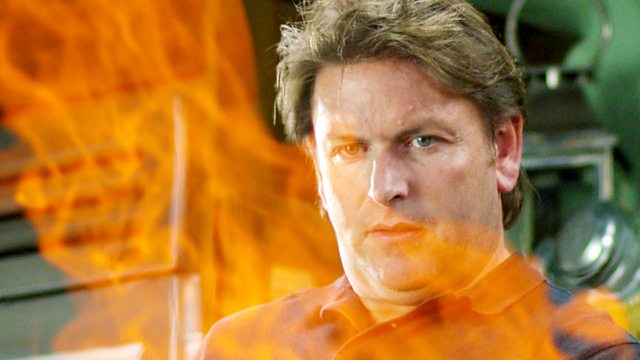 James Martin: Home Comforts
1. Holiday Favourites
BBC Two
Recipes from this episode