Quick recipe finder Brioche toast with caramelised pears and ginger syrup
Brioche is the perfect bread for French toast. Top with caramelised pears and ginger syrup for an indulgent breakfast that is surprisingly easy to make.

By The Hairy Bikers From Food & Drink
Ingredients
Method
Whisk the eggs, maple syrup, vanilla seeds and a pinch of salt together in a large bowl.

For the caramelised pecans, heat the sugar in a small pan until it turns a deep caramel colour (CAUTION: boiling sugar is extremely hot. Handle very carefully. Use a deep pan to avoid bubbling over.). Add the nuts and stir well to coat. Pour the mixture onto a baking tray lined with non-stick baking paper. Leave to cool and harden for a few minutes, then chop into pieces.

Melt 50g/1¾oz butter in a large non-stick frying pan. Dip the brioche slices into the egg mixture then pan fry in the butter for 2-3 minutes on each side, or until golden brown.

Heat the remaining butter in a non-stick pan and add the sliced pear, reserving four slices for a garnish. Add a tablespoon of sugar to the pan and cook for 2-3 minutes. Then add the chopped ginger and syrup. Cook for a further 1-2 minutes until the liquid has reduced and the pears have caramelised.

Arrange the toasted brioche on four plates, top with the caramelised pears and fresh pear slices, crème fraiche and a squeeze of lemon and zest. Scatter with chopped pecans and dust with icing sugar.
Recommended wine
Tesco finest* dessert Sémillon 2009, Selection Beerenauslese or Torres Floralis Moscatel Oro NV Spain.
Related Recipes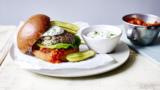 Lamb burgers with mint mayo and tomato relish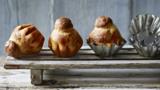 Brioches à tête
This recipe is from…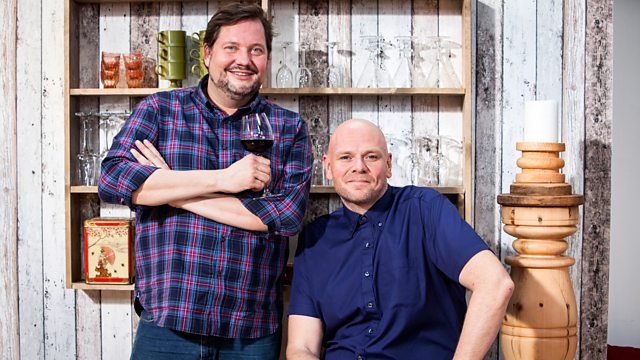 Food & Drink
1. Express Cooking
BBC Two
Recipes from this episode