Quick recipe finder Braised turbot in beer with bacon, shallots and peas
Turbot, the king of the sea, is braised in beer with bacon and peas to make this stunning fish supper. The fish is cooked in portions on the bone, but you could braise it whole if you have a large enough pan or fish kettle.

By Nathan Outlaw From Spring Kitchen with Tom Kerridge
Ingredients
Method
Heat the grill and cook the bacon until crisp. Set aside to cool and then chop into small pieces.

To make the braising liquid, heat a large pan and add the oil and 75g/2½oz of the butter.

When the oil is hot, add the shallots and the garlic. Cook for four minutes and then add the rosemary and cook for a further two minutes so the garlic and shallots begin to colour.

Add the vinegar and cook until reduced in volume to almost nothing.

Add the beer and reduce in volume again to half the amount.

Add the fish stock and bring to the boil. Skim off any impurities that rise to the top and simmer for five minutes.

To cook the fish, place the portions into the beer liquor and cover with foil, with the foil touching the surface of the liquid. Cook on a low heat for 12 minutes. Remove the foil and carefully turn the fish and add the peas and parsley. Cook for one minute and remove from the heat.

Warm a large serving platter, then carefully remove the fish from the beer and place it onto the platter.

Heat the braising liquor and whisk in the remaining 25g/1oz butter. Season to taste with salt and pepper.

To serve, spoon some of the liquor over the fish and sprinkle over the crisp bacon and a little more parsley.
Related Recipes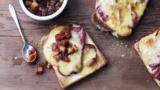 Bacon rarebit with apple chutney
This recipe is from…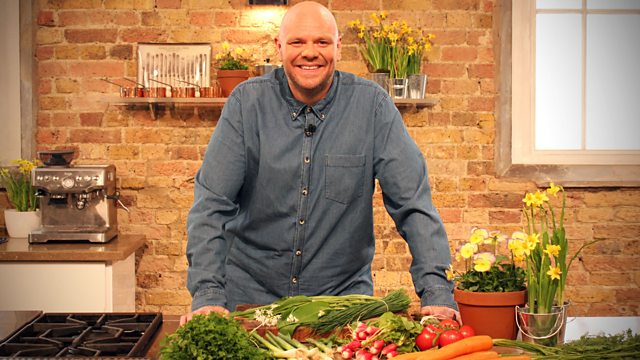 Spring Kitchen with Tom Kerridge
Episode 1
BBC One
Recipes from this episode